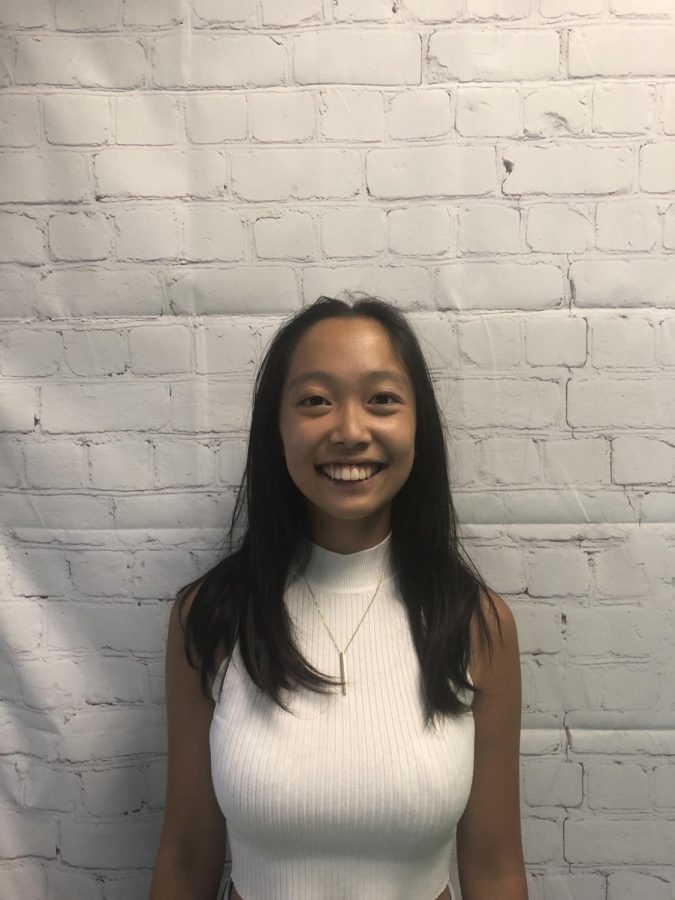 Casey currently is an Amador Valley senior. In Amador Valley Journalism she is the Infographics Editor-in-Chief and her current focus is creating a team dependable that will make strong graphics. Although she has been in journalism for three years she still learns something new every day. From the hour-long meetings that are only supposed to last 15 minutes to the tangents, everyone goes on she never gets tired of the stress and uniqueness of this Journalism. 
In the past, her roles in journalism have been staff writer 2018-2019 and  Photo Editor 2019-2020. Through the past years, she has learned journalism is unlike any other class because it allows students to create their own work and have it published.
Throughout her high school career, she has participated in numerous activities, such as Colorguard, Key Club, and Wheelchair Foundation. She marched in the 2019 fall season portraying the beautiful Wonder Woman with her team, but sadly due to COVID, she isn't able to perform anymore. In Key Club, Casey is the Fundraising and Event Coordinator for the 2019-2021 terms and the past Editor for the 2018-2019 term. Lastly, she holds a prominent position as a Wheelchair Foundation Ambassador, as she spread awareness about disabilities since her sophomore year. 
In the future, Casey hopes to pursue both digital art and business through the field of marketing. She wants to use infographics and digital art in sales and product advertisements. While applying to business schools her stress is through the roof, but in the end, she knows it will all be worth it.
Casey Chang, Infographics EIC
Nov 19, 2020

Studies suggest it's easier than we thought to get COVID twice

(Media)

Nov 11, 2020

My Experience Testing for COVID-19

(Story)

Nov 01, 2020

Prop 12: Farm Animal Confinement Initiative

(Media)

Nov 01, 2020

Prop 10: Local Rent Control Initiative

(Media)

Nov 01, 2020

Prop 9: Three States Initiative

(Media)

Nov 01, 2020

Prop 7: Change daylight saving time measure initiative

(Media)

Nov 01, 2020

Prop 8: Limits on dialysis clinics' revenue initiative

(Media)

Oct 31, 2020

Student takes the extra mile for social media during a quarantine Halloween

(Story/Media)

Oct 29, 2020

Prop 6: Future gas and vehicle taxes initiative

(Media)

Oct 28, 2020

Prop 5: Property tax transfer initiative

(Media)

Oct 20, 2020

Club Profile: Red Cross

(Media)

Oct 18, 2020

Club Profile: Science Olympiad

(Media)

Oct 16, 2020

Spooky Story Readings

(Story/Media)

Oct 15, 2020

Club Profile: Mock Trial

(Media)

Oct 15, 2020

Club Profile: Local Leaders

(Media)

Sep 30, 2020

Movies to watch during the 2020 spooky season

(Story/Media)

Sep 19, 2020

Supreme Court Justice Ruth Bader Ginsberg passes away at age 87

(Media)

Sep 12, 2020

PPD find body near Marilyn Murphy Kane Trail on Thursday

(Media)

Sep 03, 2020

People are refusing to watch Disney's 'Mulan'—here's why

(Media)

Aug 23, 2020

What are the national conventions and why are they important?

(Media)

Aug 14, 2020

'Back to School!'

(Media)

Aug 01, 2020

NCS announces sports pushback

(Media)

May 16, 2020

City of Pleasanton re-opens weekly farmers market

(Story/Media)

May 10, 2020

AV junior Andrew Choi is the 2020 YEA Competition Winner

(Story)

Apr 24, 2020

Meet your ASB officers for 2020-2021!

(Story/Media)

Apr 22, 2020
Apr 02, 2020

Families are staying connected to their churches through the coronavirus pandemic

(Story)

Mar 26, 2020

Understanding the Coronavirus Testing Debate

(Story/Media)

Mar 17, 2020

Emergency PUSD School Board Meeting Occurred Friday, March 13

(Story)

Mar 06, 2020

Key Club Volunteers at Blue by United

(Story)

Feb 28, 2020

Wheel Chair Foundation's Italian Bistro Event

(Story)

Nov 12, 2019
Nov 12, 2019
Nov 12, 2019

Wheelchair ambassadors organize a successful Abilities Awareness Week at Amador

(Story)

Oct 25, 2019

Concert Band performs for parents during lunch

(Story)

May 30, 2019

Amador sees huge success at CMEA Music Competition

(Story)

May 09, 2019

Asbury United Methodist Supports LGBT

(Story)

Mar 29, 2019
Nov 15, 2018
Nov 13, 2018

Japanese Fall Festival Recap

(Story)

Nov 07, 2018

Halloween Costume Highlights

(Story)

Oct 27, 2018

Triumphant 5: World Title Fight

(Story)