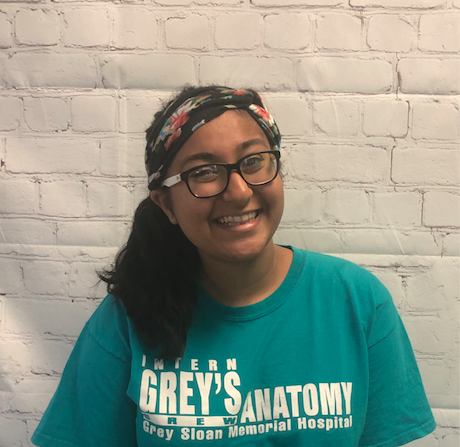 Soumya Sahay ('21) is a hardworking, positive girl who loves to write...everything! She likes poetry, novellas, books, fanfiction--you name it, she'll write it. This is her fourth (!!) year in journalism, and she is excited to be back for her last year in the program. 
Outside of school, she enjoys figure skating and listening to lame 80s pop jams. She also enjoys teaching math and reading to kids at her job. She's incredibly excited to be an AVT  editor-in-chief, and is ready to spread news in a new, unique, non-traditional way. 
She also plans to go to college after high school, double majoring in journalism and philosophy.  As of now, she's thinking about joining "journalists over borders" after college, and wants to spend her time doing investigative journalism while meeting some amazing new people. Most importantly, she's ready to work hard this year, and have some fun!
Soumya Sahay, AVT Editor-in-Chief
Dec 16, 2020

AV Junior Tasha Laberge starts tutoring system on Nextdoor

(Story)

Dec 02, 2020

Student holiday gathering causes possible Covid-19 exposure

(Story)

Oct 04, 2020

The Oakland Zoo reopens with new COVID-19 restrictions

(Story/Media)

Sep 23, 2020

Seniors received free "Amador Swirls" at the downtown dairy!

(Media)

Sep 20, 2020

Wonders of the Bay: The Oakland Zoo

(Story/Media)

Sep 20, 2020

What happens when protests turn to riots

(Media)

Sep 13, 2020

Senior John Lester commits to Stanford and begins preparing for the olympic trials

(Story)

Sep 09, 2020

Movie Review: 'Chemical Hearts'

(Media)

Sep 07, 2020

Do students have to show their face on Zoom?

(Media)

Aug 24, 2020

How the pandemic and remote learning affects the sleep schedules of students

(Media)

Aug 12, 2020

2020-2021 AV yearbook editor-in-chiefs' reveal details of the adjusted yearbook

(Story)

Jul 25, 2020

Alameda County Fairgrounds replaces annual fair with drive-in movies

(Story/Media)

Jul 13, 2020

Rising seniors create local book drive in collaboration with African Library Project

(Story)

Jun 22, 2020

Pleasanton library hosts virtual summer reading challenge

(Media)

Jun 10, 2020

Amador-Foothill Literary Magazine 'The Lighthouse' is Out!

(Story)

Jun 07, 2020

Police officers across the country are unjustly attacking peaceful protestors

(Media)

May 19, 2020
Apr 24, 2020

Senior Brent Werder prints masks for community with 3D printer

(Story)

Apr 17, 2020

Movie Review: 'Knives Out'

(Media)

Apr 12, 2020

Suhani Singhal creates "1000 Bits of Hope" to inspire girls in CS

(Story)

Mar 31, 2020

2020 AV Donversity art gallery goes virtual

(Story)

Mar 27, 2020

How AV teachers are coping with remote learning

(Story)

Mar 26, 2020

Pleasanton teen poet laureate presents 2020 virtual poetry slam

(Story)

Dec 25, 2019

AV teachers bring the holiday spirit back to Amador!

(Story)

Nov 04, 2019

AV's Halloween Tradition

(Story)

Oct 24, 2019

Amador Homecoming Dance 2019: the good and the bad

(Story)

Sep 16, 2019

2019 Aloha Spirit Week and Rally

(Story)

Aug 13, 2019

Senior Sunrise: Cloudy with a chance of seniors

(Story/Media)

May 03, 2019

AVHS Principal Search: Students Give Their Input

(Story)

Mar 08, 2019

WASC Visitation Was a Success Thanks to Hardworking Students and Staff!

(Story)

Jan 18, 2019

Mr. Amador Raises Thousands Of Dollars For Charity

(Story)

Jan 18, 2019

The Notorious RBG Makes it Into Theaters Everywhere

(Story)

Dec 12, 2018

AVHS Travels Around the World In The 2018 Winter Concert

(Story)

Dec 05, 2018

AVHS is in Desperate Need of a Dead Week

(Story)

Nov 30, 2018

Amador Assesses its Academic Integrity

(Story)

Nov 14, 2018

Take A Peek at the Highlights Of Disabilities Awareness Week!

(Story)

Nov 06, 2018

AVHS Girls Golf Team Wins EBAL Tournament

(Story)

Oct 31, 2018

The Day Of The Dead Comes Back To Life!

(Story)

Oct 29, 2018

'The Hate U Give Me' will make you want to give 5 Starrs

(Story)

Sep 11, 2018

Madonna's Tribute to Aretha Lacked R.E.S.P.E.C.T

(Story)

May 22, 2018

AV Girls Bathroom Mural Re-Painted

(Story)