AVHS Girls Golf Team Wins EBAL Tournament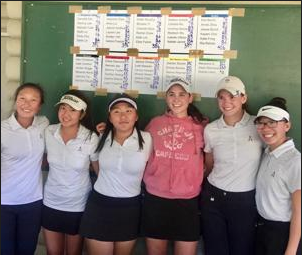 On Monday, October 15th, 2018, Amador's Girls Varsity Golf Team won the EBAL tournament. They have had a relatively good season this year, and this was a good way to bring it to a close.
"We're in the most competitive league in all of Northern California, so winning the League tournament was a big deal, especially beating two teams that beat us in the league season, and  then moving from third place to second place overall to finish league was a…triumph," said Varsity Golf coach Neil Bello.
Ten teams in the East Bay Athletic league competed at the event to win, but Amador ended up taking first. They won the match with a final score of 386, in front of Dougherty Valley with a 391, and Foothill with a 396.  
"I had high hopes for them because I know they practice really hard, because we practice four times a week. I hope to play golf in college, I want to play division three, and I felt great about them winning. It made me want to work harder so I can make it into varsity too, and [to] be as competitive as them," said JV golfer Sophia Salehifar ('21).
The AVHS golf team works very hard to place as well as they do in tournaments such as EBAL. The team practices four times a week after school. The girls work on their range, putting, position of the club, etc.
"I was really excited because we didn't expect to win at first, but we did, even though the other teams were really good too. We all practice really hard, four times a week," said varsity golfer Brooke Lee ('21).
The varsity team captain Katie Murphy was also recognized as a medalist for the tournament for her record score of 71, which was the lowest score out of everyone in the tournament.
"[I felt] ecstatic and overwhelmed with joy for my girls. I felt teary-eyed, emotional, super satisfied, and happy. I was very proud of my girls," said Bello.  
The teams have another match Monday, the 29th of October for the NCS championships, where Amador will attempt to reach the top three and become eligible for the NorCal Championships.
   Update: Girls golf won NCS on Monday, the 29th of October! Congratulations AVHS girls golf!