November 13, 2018
This past Tuesday, was an important day for politics in our nation and here at Amador as well. November 6, 2018 was midterm election day in the...
November 13, 2018
Almost every classroom at Amador has a whiteboard supplied with Expo markers.  Between schools, universities, and other institutions, roughly...
November 1, 2018
As the midterm elections fast approach, people are becoming increasingly vocal about the way they believe Congress should lean. Pop singer Taylor...
Julian Koste, Staff Writer
September 26, 2018 • No Comments
Not too long ago, parents living in Hephzibah, Georgia received a letter from their school asking them to consent to the paddling of their children. One-third gave consent,...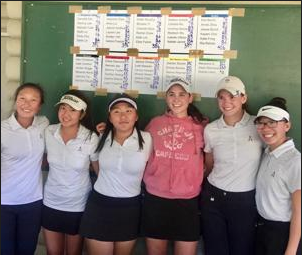 Katalina Garber and Soumya Sahay
November 6, 2018 • No Comments
On Monday, October 15th, 2018, Amador's Girls Varsity Golf Team won the EBAL tournament. They have had a relatively good season this year, and this was a good way to bring...
Triumphant 5: World Title Fight
October 27, 2018
Middle Schoolers at Football Games
October 12, 2018
September 17, 2018
Loading ...
Recent Sports Scores
Tuesday, October 31

Girls Volleyball

AVHS 2 - Dublin 3

Thursday, October 26

Girls Volleyball

AVHS 0 - Foothill 3

Tuesday, October 24

Girls Volleyball

AVHS 2 - California 3

Friday, October 20

Football

AVHS 24 - Livermore 0

Thursday, October 19

Girls Volleyball

AVHS 3 - Granada 0