Rising seniors create local book drive in collaboration with African Library Project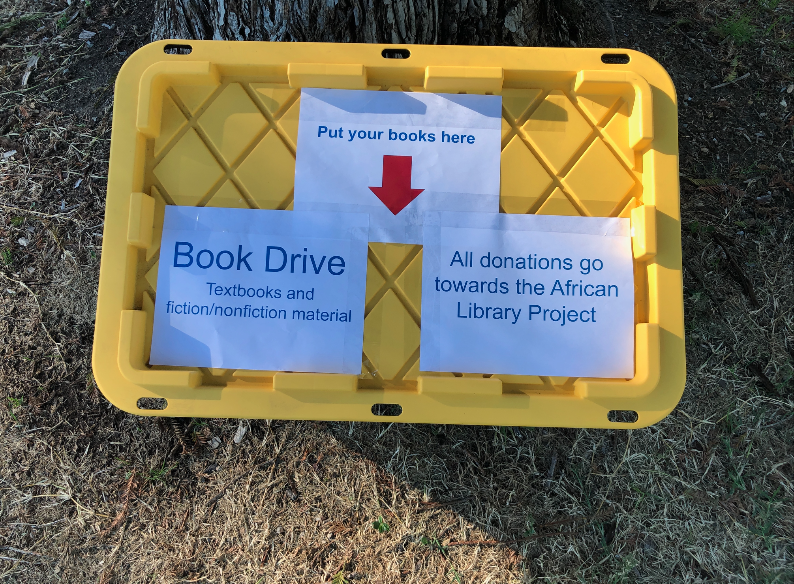 From July 13th to July 30th, five rising Amador seniors are planning to collect old textbooks from students to provide materials for the African Library Project in hopes of improving libraries and resources in different countries within Africa. 
"Textbooks are our main goal because we know that covid is impacting education in a lot of countries, especially when there wasn't much of an education system to start with, so we're hoping to alleviate some of those impacts. The African Library Project is making libraries using the books that are donated, so we need as many textbooks as possible," said Srihita Ramini ('21).  
The students involved with this book drive are all rising seniors at AVHS: Shruti Sonekar ('21),  Nina Moothedath ('21), Avery Sliwak ('21), Laya Karthikeyan ('21), and Srihita Ramini ('21). 
"We have to send the books to Louisiana because that is where they are operating out of, so once we collect all the textbooks, we will send them there. From there, the Project will send them internationally to the places they need to go," said Ramini.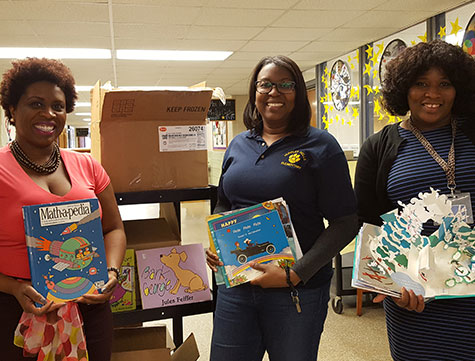 The African Library Project collects textbooks, children's books, non-fiction and fiction novels to distribute to 30-60 developing libraries each year. Libraries are located in English-speaking African countries such as Kenya, Uganda, Lesotho, Malawi, and more. 
"Because I knew many kids didn't have the ability to go to school during covid, they also wouldn't receive the resources they need to succeed. I've really learned that education is the most powerful tool that you can have, and there should be no reason for kids to lose their opportunity for education because of this pandemic," said Shruti Sonekar ('21). 
The project itself began in 2005 in hopes of increasing literacy rates and ending poverty in Africa, and to inspire young children in developing countries to pursue education and allow them access to fun and interesting books. 
"We just want as many books as we can get. I'm hopeful, because I emailed the schools about it. I know that there are a lot of textbooks that our school told us to personally recycle because they didn't have the resources to dispose of them themselves, and it would be amazing if students just donate those textbooks instead of recycling them," said Ramini. 
These countries have been especially hit hard with the pandemic, as many classrooms (few as there may be) can not afford to continue educating remotely. There are not enough resources, and there are larger, more urgent concerns of importance than education. 
"This pandemic has really taken a lot from a lot of people, and we are lucky to have access to universal technology that we can receive our education from, but there are millions of kids who don't have that opportunity. Universal access to education will open so many doors for so many kids, and if we can help with that, we don't want the medical label of our club to get in the way of helping those kids," said Sonekar.
The Project has created a book, How to Set Up and Run a Small Library in Africa, that explains the basics of proper library management so the books that are provided are used in the most effective ways possible. 
"In third world countries, they do not have the same abundance of reading and teaching material as we do, so we are hoping to help with that. We are aiming for 500 books and we will be placing the bins in three parks: Neilson, Amaral, and Orloff. All the proceeds will go to the African Library Project, and this is a great way to contribute to a great cause, in your own way," said Sonekar. 
With Covid-19, there is always a concern for safety, specifically regarding the spread of germs from the bin and from the books that will be handled by multiple people. However, the head of the drive was quick to break down the precautions they are taking to be as safe as possible. 
"There will be little to no physical contact, as we will be creating book-sized cutouts on the bins so there is no concern of the spread of germs, and we also encourage all of our donors to wash their hands when arriving home, just to ensure we are being as safe as possible. All bins will be wiped down, and we may even ask our donors to wipe the books with kleenex (that we provide) before putting them in the bin. There is no need for anyone to be concerned about safety, as we are taking the necessary precautions." said Sonekar. 
You may be asking: how will I know for sure that my books are being used? How can I be sure that I am donating to a good and credible cause?' Well, the members are happy to announce that they might be able to publish pictures of the books that are donated, and which libraries they end up in! 
"I got in contact with the head of the African Library Project and she said that she would tell us where the books would go, and that she would send us pictures when everything is shipped, so that's something amazing and something to look forward to!" said Sonekar. 
The girls who are working hard to collect and donate as many books as possible want the public to know that the cause is what makes it all worth it. They encourage anyone who is able to donate to do so. 
"I just want to point out that even though, with the safety and health concerns, we know it is going to take extra effort to get these books to where they need to be, that shouldn't stop us from doing what needs to be done. Now that we have more time to ourselves, at least a large amount of us do, I think it's a great time to help out others, it's our responsibility to. We can do so little and make such a huge impact, so why not just do it?" said Sonekar. 
Please consider searching your home for old textbooks or extra books that you would be willing to donate, and dropping it off at one of the three bins mentioned above. The book you leave may soon be in the hands of a hopeful student hundreds of miles away who will be cherishing every word.