Pleasanton teen poet laureate presents 2020 virtual poetry slam
Entries are due April 3rd, 2020!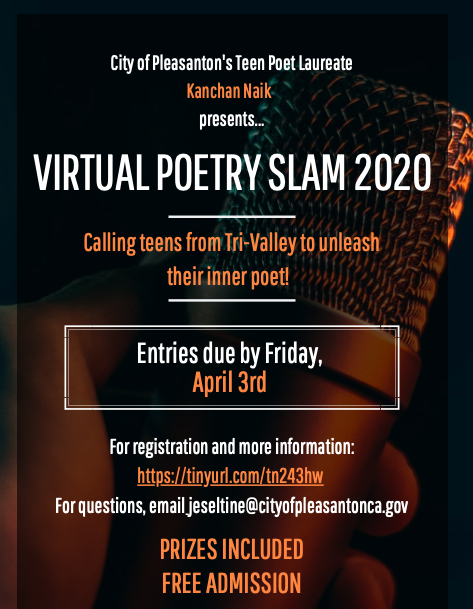 The city of Pleasanton's teen poet laureate, junior Kanchan Naik, is presenting the first virtual poetry slam…ever! All teens living in the tri-valley are eligible to participate, and they can do so from their very own homes. 
The purpose of the slam is to allow poets to present their work in an organized space, and share a story that they care about. Especially with the covid-19 health crisis, now is a time for teens to explore their creativity, and share their thoughts with the world. 
"I'm usually pretty open to the ideas that poets might bring, but I think that one thing that I look for in general is that ability to open up, and be vulnerable in your writing.In my opinion, one of the most critical purposes of poetry is that ability to self-reflect," said teen poet laureate Kanchan Naik. 
Poets have the opportunity to either present their own poetry through a short video or they can choose to perform an interpretive piece based on the work of another writer. Both categories will be judged separately, and one winner from each category will receive a prize. 
Prizes will be given to both the first place winner and the runner up for each category, so there are lots of opportunities for recognition. 
"The do's and don'ts are listed in extent on the tinyurl provided on the flyer, but just make sure you comply with some of our standards on performing age-appropriate content. We're really interested in just hearing the words and the voice from our performers, so we'd really appreciate it if there is no music, no props, no costumes, anything of the like. Just make sure to add your creative touch to the performance," said Naik. 
Teens can either submit individual work or they can participate in a group of 2-4 people. There is no limit to the amount of entries submitted, but each performance must remain under three minutes. 
Entries must be submitted through YouTube to reduce complications. Work submitted through any other platform or application (google drive, email, etc.) will not be looked at or considered for the competition. 
If you are at all interested in participating in the 2020 virtual poetry slam, or if you have any questions regarding the event, please contact [email protected] for more info. Final entries are due April 3rd–good luck!
Please watch for a full, exclusive, in-depth interview with the teen poet laureate herself, Kanchan Naik!