Bay Area community members stand up against recent rise in anti-Asian hate crimes
"An ongoing battle against unwarranted & unacceptable racism"
In the past year, hate crimes against Asian-Americans have increased by nearly 150% in major cities, so people and organizations throughout the Bay Area have decided to take a stand.  
People have every reason to be pushing for change. Between the beginning of the pandemic–around March–and the end of 2020, at least 708 anti-Asian hate crimes were reported in the Bay Area alone. Asian-Americans have been forced to feel afraid during their day-to-day lives. 
SF assemblyman Phil Ting addresses the problem head-on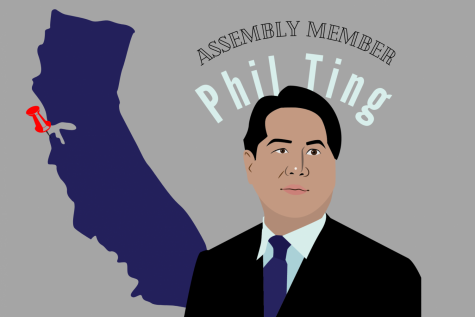 San Francisco assemblyman Phil Ting is one of the many people working towards ending anti-Asian violence. He and fellow lawmakers have approved $1.4 million to help fund education and research on anti-Asian crimes. 
"The rise in hate incidents against Asian Americans during the pandemic is alarming. But, we can't solve a problem without knowing how big it is. New state funding allows the data gathering to continue, and the research will ultimately lead us to solutions that will make all communities safer," said assemblymember Phil Ting on his website. 
Youth group "Dear Asian Youth" spreads awareness of the issue
The Tri-Valley chapter of the organization Dear Asian Youth is doing their part to fight violence against Asian-Americans, and spread awareness through social media. 
"I feel like the rise is anti-Asian violence is most definitely unwarranted, no matter where it is in the world. We are a progressive society and it is really saddening to hear about all these hate crimes…it makes me wonder how rooted racism is in the subconscious mind for people to actually commit those hate crimes, and it's also scary because now I fear for the lives of the ones I love whenever we go outside," said local DAY treasurer Emily Yang ('22). 
This fear has pushed local Asian-American students and allies to stand up against this violence and do what they can to make the Bay safer for its many Asian-American inhabitants. 
"Dear Asian Youth is a student-led organization that aims to uplift the voices of Asian-Americans," said local DAY marketing/design leader Marina Lee ('22). 
DAY as an organization is working to broaden perspectives and break down stereotypes that are commonly assumed around Asian-Americans. 
"We've just added a diversity and education force on the national team…It really works to incorporate all of that wide umbrella and get a big perspective and help AA become more represented and help people understand the big issue," said Jasmine Chen, another Tri-Valley DAY leader. 
These Asian-American youths are doing all they can to take COVID-19 precautions and still help their community. This involves a lot of social media outreach. 
"We're working on partnering with other organizations…We're planning to also just post more on our social media to bring awareness and hopefully partner with another organization that has a similar mission so that we can reach more people and bring awareness," said Lee.
While these students are doing their best to spread their message, they feel that they aren't being heard. The Asian-American community is not one that is seen as being oppressed in the same manner as the Black community is, and these harmful stereotypes often lead people to pay less attention to anti-Asian violence. 
Yang expressed shock over the racism she always expected to receive and the violence the world has encountered. While Asian-American youths are always taught to stand tall through microaggressions and discrimiation, blatant violence is not something they were told to expect. 
"The first step definitely has to do with people like Joe Biden and also celebrities because when they speak up, people who don't know about it will also know about it as well, and also just people who are allies of the Asian community," said Yang. 
ABC-7 reporter Dion Lim spreads the word 
Luckily, groups like DAY have allies in the media. ABC-7 reporter and anchor Dion Lim has been using her platform to address anti-Asian violence and amplify the voices of victims. She has conducted numerous interviews with the families of Asian-American victims of hate crimes, and continues to push for more coverage of their stories. 
"Nothing is quite as impactful while covering it as someone who looks like yourself being assaulted. There's something that really resonates with me when you see someone being beat down, shoved or being called racial slurs who looks like you," said Lim in an interview with AVT reporters. 

The huge rise in anti-Asian violence that occurred during the past year can be partially attributed to the negative stereotypes regarding COVID-19 being perpetuated in the media. 
"In the beginning of the pandemic we saw a lot of hatred towards Asian-Americans based off of the fact that our president at the time, Donald Trump, was calling it the 'China Virus.' That perpetuated some very negative and hurtful stereotypes: calling Asian-Americans the China Virus or that we have the Kung Flu and are the reason why so many people are getting sick," said Lim. 
As a reporter, Liim expressed pride in those who are using their voices to spread information and bring light to cases of anti-Asian violence. 
"Now, after the wave of hate that we saw early in the pandemic, more people are speaking out on social media. They are sharing, they feel a little bit more empowered, they feel bolder to use their voice…This has been going on for decades and probably hundreds of years, it's just never had so much attention," said Lim. 
Many people feel hopeless, and they aren't sure how they can help with such a large scale issue. 
"Even though you're a young person and you may not have the platform that someone like I do has…There are things you can do on a micro level, and I always encourage young people to speak out in different ways…Share articles, do your research, educate.
Speaking out is half the battle, because when you see something happening–whether it be your workplace, or at school, or in public–that's not right, interject!
Let that other person who's being attacked know that 'Hey, someone's in your corner,'" said Lim.
For more information regarding the fight against anti-Asian violence, check out our discussion with ABC-7 News journalist Dion Lim, and visit this link to listen to the 15 minute podcast produced by AVT reporter Renna Popli.
Leave a Comment