Understanding the Coronavirus Testing Debate
Intro: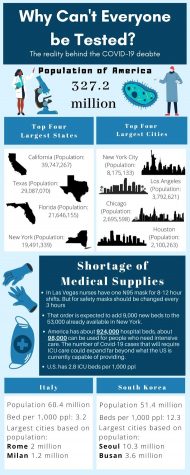 Within the last few weeks, there has been confusion and disorder surrounding Coronavirus (COVID-19) testing and major debates have erupted over who deserves to be tested. Many Americans are comparing COVID-19 testing in the U.S. to testing in countries like South Korea and Italy, where testing has been available to the majority of citizens. However, the main difference between the U.S. and these other countries, is that the U.S. has an overwhelmingly higher population than either South Korea or Italy.
The reality is that in the U.S. Coronavirus tests are limited and not everyone will be able to be tested. 
"We should be focusing on surging data, surging equipment, surging testing, surging all this information and all this capability around the country," said Democratic presidential candidate, Joe Biden.  
The government's number one priority right now is to flatten the curve of the spread of COVID-19 so that our health-care system does not become overcrowded. The government is accomplishing this by canceling social events, including school and many places of work, and enforcing shelter in place laws in some areas of the country until the beginning of May. In this way, our government is trying to aid people directly affected by COVID-19, and in turn, decrease the number of people who will need testing for the virus.
"I will be guided mainly by Dr. Fauci, Debra, and many other medical professionals to regulate portions of the U.S., " said President Trump, in an interview declaring COVID-19 a pandemic on March 11.
Everything is dependent on data and numbers. We are a country with roughly 327.2 million people, while Italy and South Korea only have 60.4 million and 51.4 million people respectively.
"The U.S. is a large country and we really need to know the penetration of the effects [of COVID-19], which will always be done by identification, isolation, and contact tracing," said Dr. Anthony Fauci, an Infectious disease expert.
Overall, the United States' large population is the main disadvantage of its ability to be able to provide COVID-19 testing to all citizens.
Explaining the debate over who should be allowed access to testing:
The CDC was given Emergency Use Authorization (EUA) on February 4, 2020, to test for COVID-19.
All tests must be administered by medical professionals such as doctors, nurses, and other qualified personnel. One is only allowed to get tested if he/she has symptoms of COVID-19 including, fever, cough, or shortness of breath.
"While supplies of these tests are increasing, it may still be difficult to find a place to get tested," said the CDC website.
The CDC has enacted specific priorities for certain patients to be tested first, including hospitalized people and symptomatic healthcare professionals. The second tier of testing will be allotted to patients in long-term care facilities with symptoms, patients 65 years of age and older with symptoms, patients with underlying conditions with symptoms, and first responders with symptoms.
The last group to be allowed testing are individuals who do not meet any of the above categories with symptoms and individuals with mild symptoms in communities experiencing high COVID-19 hospitalizations. 
"For healthcare personnel, testing may be considered if there has been exposure to a person with suspected COVID-19 without laboratory confirmation. Because of their often extensive and close contact with vulnerable patients in healthcare settings, even mild signs and symptoms (e.g., sore throat) of COVID-19 should be evaluated among potentially exposed healthcare personnel," said the CDC. 
Meanwhile, celebrities including actors Tom Hanks, Idris Elba, Rand Paul, Daniel Dae Kim, and Brooklyn Nets player Kevin Durant have tested positive for COVID-19, although some were asymptomatic (without symptoms). This leads to the question, why were these celebrities allowed to get tested without having symptoms?
Many people have become outraged over the fact that entire NBA teams have found private labs to do COVID-19 testing while critically ill patients are left to wait for testing. 
"But, with all due respect, an entire NBA team should NOT get tested for COVID-19 while there are critically ill patients waiting to be tested. Tests should not be for the wealthy, but for the sick," said the Mayor of New York City Bill de Blasio.
People must take into account that people with money do often get benefits and sometimes that comes at the expense of those without health insurance. 
"I was told that someone that I had been in contact with had tested positive, so it was definitely something that I had to do as I was about to start filming and was around a lot of people," said popular English Actor, Idris Elba.
Even our president is aware of the fact that wealthy individuals are able to gain much quicker access to COVID-19 testing than the average American.
"Perhaps that's been the story of life. That does happen on occasion. And I've noticed where some people have been tested fairly quickly," said President Trump, during a briefing at the White House.
The debate over the COVID-19 testing is only gaining momentum as more and more celebrities, professional athletes, and wealthy individuals are gaining access to testing over individuals with life-threatening medical conditions.
The Conclusion: 
The COVID-19 outbreak has become a political debate, and while some believe it is an "American Problem" and that we should support our president in his efforts against the virus, others have become outraged over the lack of early action from our president, which has caused a significant loss of available testing.
"Donald Trump is not to blame for the coronavirus. But he does bear responsibility for our response. And I, along with every American, hope he steps up and starts to get this right," said Joe Biden.
Overall, the U.S. is in a state of confusion during this unprecedented time, and the debate over the COVID-19 testing is more than just surface-level deep.