Much Ado About Pizza Food Review
Recently, a new family-owned pizza restaurant located in Pleasanton's Mission Plaza just opened up. Pleasanton is home to many pizza places, but this one-of-a-kind theme stands out against other chain pizza restaurants. 
The owners, Kira and Mark Zabrowski, are US pizza team members and contestants at international competitions. The name, Much Ado About Pizza, is a reference to Shakespeare's play titled Much Ado About Nothing. In order to be unique, they serve "Shakespearean" style pizza, which is unlike other styles. Items on their menu include: the "Ham-let", a pineapple and prosciutto pizza, "Henry the 8", an 8 topping pizza, and many more, playing on famous Shakespeare works with puns. 
They currently only offer customized carry-out and catering pizzas. The prices range from $22-35, depending on what toppings you choose, and tend to feed 2-3 adults. 
  Upon arrival, the first impression was good because the owners were extremely welcoming. Picking up the pizza was an easy grab and go process since it was ordered online. The atmosphere felt a little bit empty because there were no tables, no customers, and bare walls. But, the restaurant just recently opened so that may be expected.
The custom pizza toppings chosen included prosciutto, onions, and tomatoes which in total, cost around $30. The size was relatively the same as any other medium pizza. The sourdough crust was soft all around with a slightly crunchy crust.  Although there could have been more onion, there was an even layer of cheese with a balanced amount of toppings. This created a blend of cheesy, tangy, and salty flavors all in one.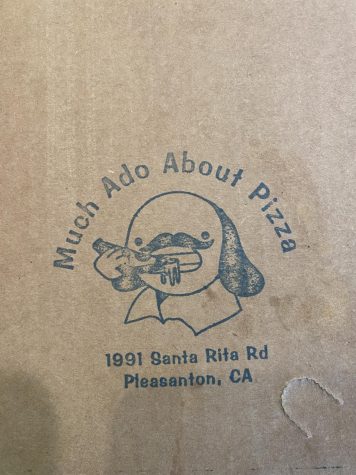 The first bite wasn't extremely impressive, nor disappointing. The savory toppings and seasoning paired together definitely helped improve the taste, but nothing exactly stood out. The sauce was sweet which added a different aspect to the flavor.
Giving this restaurant another chance might shift opinions, and the topping choices may not have been the right decision. Next time, ordering one of their signature pizzas would be a wiser choice. Other than the pizza, the owners were very personable, which helped to make the experience special.