Is Daves Hot Chicken really that hot?
Dave's Hot Chicken recently opened a location on Tassajra Road in Dublin, California, but is also a chain in 21 U.S. states and three other countries. Dave's Hot Chicken was founded by a man named Dave Kopushyan and a group of his friends. Dave is a chef that was trained by Thomas Keller himself. Keller is the owner of a famous restaurant which is considered the best in the world, the French Laundry. That means that Daves Hot Chicken had a lot of expectations for how its food was going to taste going in.
The interior of Dave's certainly is unique. It is reminiscent of graffiti in a sewer or on the footing of a bridge. It does indeed fit the setting of the restaurant and the theme of the food, a wild yet simple design with rounded, jagged, and somewhat silly bubble characters. There were many colors involved, but the main theme seemed to be red, orange, and yellow.
Now on to the pricing. When I first looked at the menu, the first thing I thought was that they were actually reasonably priced. The cheapest meal is the #4 for $9.99, which is one slider with fries, served with kale slaw, pickles, and Dave's sauce and the most expensive meal is the #2 with two sliders instead of one for $14.49. Every meal comes with fries and has good value for the price spent.
The meal in which I ate was the #3 with the tender, slider and the sides, plus an order of mac and cheese and a drink. This in total was around $21, which is fair as I did appreciate the cheap price of the mac and cheese for $3.75. There is a scale of heat you can choose for your chicken which ranges from 'no spice' to 'reaper'. I chose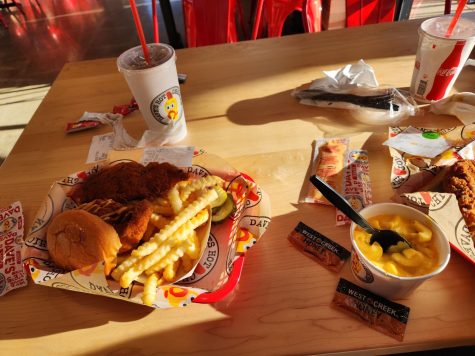 'extra hot', which is second from the highest. I did not choose the reaper option because you had to sign a contract, but I now regret not getting it.
This regret is because, simply, it was not that spicy to me whatsoever. I was quite disappointed by the spiciness level of my chicken considering the restaurant's name is 'Dave's Hot Chicken,' and I  was expecting  a good amount of spice. Another thing which was kind of annoying, but not anything to really get upset about, was the fact that I asked for no slaw but they put it on my sandwich anyway.
To me when I first saw my meal, I thought it looked strange. The seasoning on the chicken looked very sand-like, and the bread on the tender was more of a hot dog bun than a traditional sandwich bun. The main thing that caught my attention was the sliced bread; which originally I thought was going to be a Texas toast style bread similar to that of Raising Cane's. However, what they served me was a piece of white bread. I thought this was very random as it did not go with the meal whatsoever. I did not even eat it. 
When I first put the sandwich up to my face to eat it, I was instantly hit with a strange smell. The smell was similar to how a multivitamin tablet tastes. It had a strange scent. I can't quite put my finger on it, but it wasn't a pleasant addition to the experience to say the least.
This smell threw me off the entire time I was eating it. It is just a little concerning how the smell of my hot chicken is the same as the smell of a multivitamin. Aside from the smell, the taste of the food was pretty good, but the texture of the chicken was definitely unique. It had a harder crunch to it, and the weight of the sandwich was noticeably heavier on one side, but appearance wise it looked the same all around. The look of the tender resembled tree bark, and it was pretty brown. Overall, it was a solid six out of ten because it wasn't anything special, and I've had much better.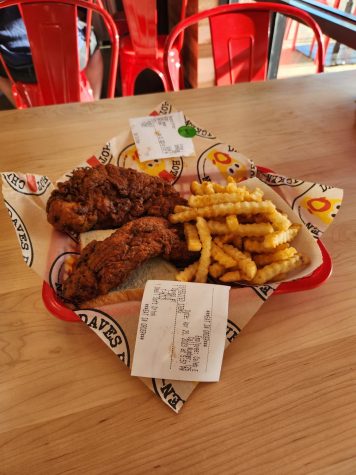 Apart from the sandwich, the fries were very good. The fries were seasoned with spice, similar to cajun but not quite. I think the fries were the only thing that stood out to me. The mac and cheese on the other hand was very disappointing, I immediately knew it wasn't going to be good because it visually looked watered down with cheese, and there wasn't much of the actual noodle part. I also noticed that the mac and cheese had a red chili on it which I assume was supposed to make it spicy, but it just tasted like overly cheesy mac and cheese.
Overall, this experience was kind of a let down because I had heard it was good chicken. But, what I had experienced was a mildly spicy, somewhat dry tender on a mid-sized bun. Would I go back here? Maybe, probably not, but if I did I would definitely try the reaper spice level because the one I had tried was not hot; but maybe that is just because I love spice. I would recommend this restaurant to other people because while it was not an experience all might enjoy, it is an experience worth trying out.