McDonald's Mcplant is next in line of plant-based fast food options
Plant-based menu items are making their way to popular fast food chains. Here are four options available here in 2022.
McPlant
On Valentine's Day, approximately 260 McDonald's locations released the McPlant – a plant based burger that is inclusive to most diets. After a first test release in Canada, McDonalds then released it in eight different locations in the US. The patty, made by Southern California company Beyond Meat, comes alongside other toppings such as tomatoes, lettuce and pickles. The burger isn't actually vegan, as it comes with cheese and mayo
"Although I think that the Mcplant burger is inclusive, I [can't] really understand why [people say] the patty tasted like meat, as a person who has never tried meat before. I thought it tasted artificial, and they put way too much sauces," said Aaron Sharma ('25).
It's unclear how long the McPlant will last in the Bay Area as McDonald's tries to understand the demand for vegetarian burgers.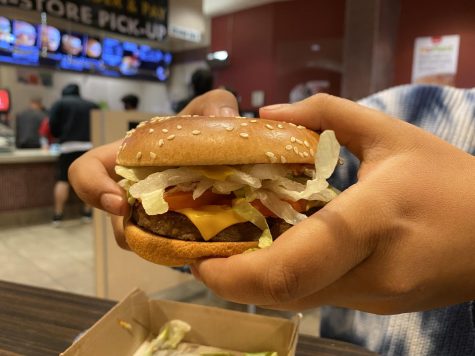 Impossible Whopper
Although there are many independent restaurants that make veggie burgers, McDonald's main competitor is the Impossible Whopper from Burger King. Made of a soy based patty, which gives a meaty flavor, it is from Redwood City's Impossible Foods.
"I think that this burger has to be one of the best meatless burgers I've tasted. Usually they test very artificial–this one wasn't so bad but I still don't like the fact that they make it near meat. I still don't personally love it since the patty is cooked in the same grease as other meat products," said Ananya Niranjan ('24).
The Impossible Whopper gained a huge reputation for it's alternative "meat" choice, because it was one of the first to vegetarian meals in fast food restaurants. However, because Burger King adds mayo and cheese the burger was quickly shunned as a non-vegan fast-food alternative. It was also revealed that the patties were cooked in the same broiler as its chicken and beef products. This means the burger could've come in contact with some of these poultry products.
The impossible Whopper is also not a healthier alternative compared to their traditional Whopper. In fact, the Impossible Whopper has nine more grams of carbohydrates, as well as more sodium, than the original burger. 
KFC
This year, KFC made their plant-based Beyond Fried Chicken available nationwide. When they conducted their pilot run in Atlanta in 2019, they became the first American fast food joint to introduce plant-based chicken to the city.
"I really hope that vegetarian options in fast food restaurants can be more widespread. I know that people who are vegetarian usually can't go to fast food restaurants. In my opinion, this would be more inclusive, and is a great marketing strategy," said Jia Varshney ('24).
Chipotle
All these joints are also competing with Mexican fast food restaurant Chipotle. Chipotle just released their plant based Chorizo in the US. Their chorizo is a sausage made with paprika and garlic. The product is free of preservatives, grains, gluten, and soy.
"Usually Chipotle is a good restaurant that has vegetarian options, so I did expect it to be good, and it didn't disappoint," said Bhavya Yanamandra ('23).
Overall
The future of plant-based foods in fast food joints is currently in the making. Opinions are mixed, but these plant-based fast food options may just be the first prototypes of alternative meat foods available down the line.