Book Review: 'Daisy Jones And The Six'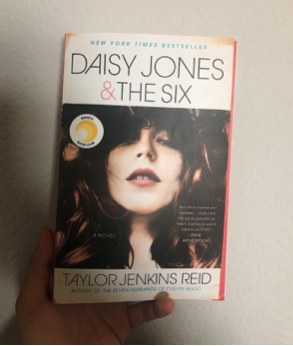 Daisy Jones And The Six is a compelling, gorgeous novel written by Taylor Jenkins Reid about a band rising to fame in the 1970's. Based loosely on the renowned Fleetwood Mac album Rumors, it not only has a unique plot, but the author's choice of writing about a rock band in the format of an oral history truly sets the book aside from its fellow historical fiction and YA novels. 
Daisy Jones is young, reckless and far from sober. She has two things going for her, but they will take her incredibly far: jaw-dropping looks and a singing voice that makes you feel something. It's no surprise when the blue-eyed, doped up rockstar begins to get noticed. 
Billy Dunne and his brother Graham want to start a band. They have a guitar, a microphone, a garage and some friends. The Dunne Brothers, Warren Rhodes, Pete Loving, Eddie Loving, and Karen Sirko come together to make the dream a reality: The Six. Also being noticed, the team is set to go off on tour, but on the eve of their departure Billy's girlfriend Camila finds out she is pregnant. This causes Billy to go a bit wild out on the road. 
Billy and Daisy cross paths when it's decided by a producer that the key to both of their success stories is one another. The inclusion of Daisy into the band proceeds to shake and shape the 1970's music scene, and the interview-esc writing style paints a behind-the-scenes picture like no other. 
What truly stood out to me, amongst characters and overall plot points, was the skill with which Reid was able to create one of the most intricate novels I have ever read through the oral history format. It felt incredibly personal and every detail seemed to be included with clear deliberacy. The fluidity of the dialogue made it seem as though Reid had actually gone out and spent hours interviewing this fictional band. 
I would rate this book 5 stars out of 5 though it was not always the easiest, fastest read. I'd consider that of strength, however, because you must be completely immersed in the book to truly understand and enjoy it. 
I'd recommend Daisy Jones And The Six to anyone looking for a unique, personal story. It is a 1970's rock adventure, and I have yet to hear of any novels even similar to this one. There is power in individuality, as is proven by both the book itself and each character.