New student-run business 'Basically Boba' is a success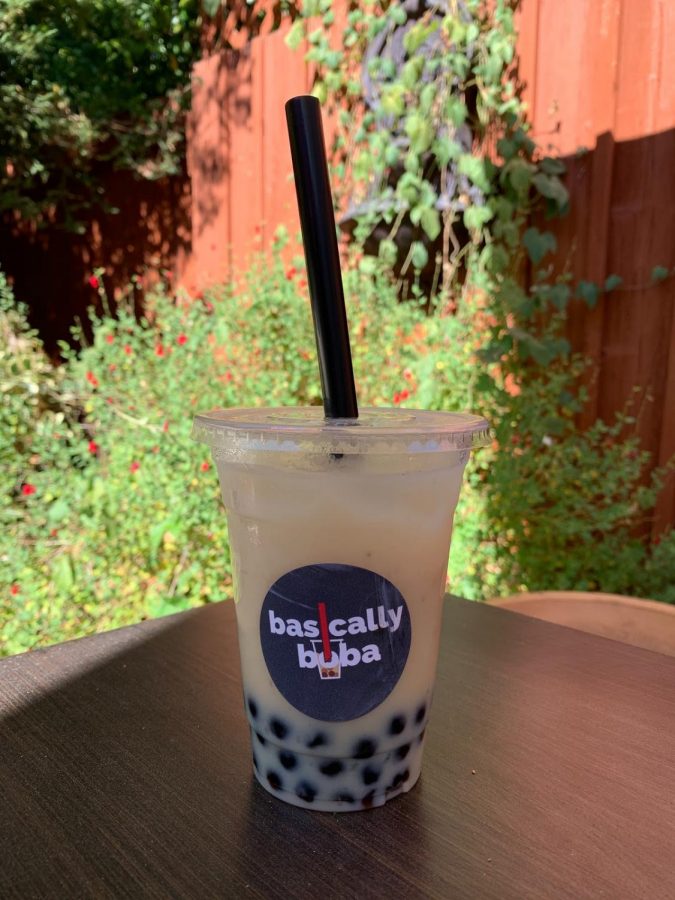 Boba, the increasingly popular Taiwanese drink, can seemingly be found in every other shopping center around town. Most of these shops are chains, like T4 and Happy Lemon, and they tend to focus more on profit and business than they do quality and the customer. 
While the average boba lover will dismiss this lack of quality produced by local boba shops, Matthew Lim ('21) and Sasha Rekesh ('21), decided they could do better. 
"I always wanted to start something in my life. All it took was to find a problem in my community and create a solution. I can't speak for Sasha, but I've had a passion ever since I drank my first milk tea from T4 in middle school. I was disgusted by the taste until it grew on me. It wasn't until I tasted authentic boba in East Asia where I found out how the significant quality difference between that and the boba here," said Lim.
Most of us will drink our mediocre boba teas and move on with our day, but Sasha, a former employee at a local boba shop, knew a great deal about what went into customer's drinks, and she wasn't too keen on this. 
"After working my first job at a local boba tea store, I began to realize how many unhealthy and unnatural ingredients went into my drinks, and was shocked by the lack of customer transparency in my store. Drinks that were advertised as being made with 'fresh fruit' were really just made with fruit syrup, which often contained over 97% high fructose corn syrup," said Rekesh.
Matthew and Sasha, Japanese classmates and wind ensemble bandmates, learned that they both lacked faith in local boba shops. With this realization, and a lot of determination, the two worked for months to create a business plan, perfecting their recipes along the way. 
"I learned that two heads are better than one when it comes to leading a business. The advantage of having a co-founder is that you can 'divide and conquer' different tasks to the person who is good at those tasks—in this case—business and brewing. More importantly, having a partner allows multiple points of view on difficult decisions," said Lim.
What they focus on most is what it is that they're putting into these drinks. Not only do they use premium tea leaves and boba imported from Taiwan, but they also make sure that they have options for allergies and diets.  
"You could credit our success to the fine ingredients we use compared to other shops, but it's the way we're incorporating the often-lost intricacies and quality of Asian culture into our drinks. Also, all of our milk teas use non-dairy half-and-half creamer and are open to oat/almond milk substitutions," said Lim.
The team believes that having healthy ingredients and customer transparency are key components of their business. Afterall, it is the underlying reason why they created their business. 
"After discovering [the unhealthy ingredients commonly used at boba chains], I began making my own milk and fruit teas at home, with healthy ingredients that I could trust. We wanted to share our newfound healthy boba recipes with our peers," said Rekesh.
Customers acknowledge and appreciate the hard work that the co-founders put into their business. Basically Boba stands out from other boba shops because they listen to their customers and act on these requests. On their website they even have a "Suggest a Drink" below their menu. 
"There are so many things I like about them, one of the biggest reasons is that they deliver right to your door for free which is super convenient. I also really like how they take advice from customers so if you have a special request or want something changed they will do that for you. I also love how they're constantly coming out with new drinks and I like to try them all," said Julia Smith ('21). 
When it comes to their business, Matthew and Sasha don't only care about their customers, but they also care deeply about their communities. Although they are not a registered nonprofit organization, they consider themselves 100% nonprofit, donating their profits to other organizations. 
"Instead of creating a brand new nonprofit to put on college applications or a resume, we believe that resources can go to already established nonprofits that do a great job with their funding. So we decided to donate our profits to the organizations placed close to our hearts such as NAACP, CFF, Bagel Cafe, etc.," said Lim.
Currently it's just a work in progress, but the duo has plans to expand their shop by introducing merchandise as well.
"I think most people are willing to buy something that doesn't have a brand name like "Basically Boba" on it, so we'll likely introduce a minimalistic boba t-shirt," said Lim.
Starting a business in one's junior year of high school may come with its challenges, but it is all worth it in the end, as there are many valuable lessons to be learned. A successful business is one with happy customers.
"Being a part of a passionate and hard-working team made me realize the importance of team-work and collaboration in order to succeed," said Rekesh.
In the big scheme of things, providing customers with quality and compassion is one of the greatest accomplishments a business can acquire. To find out more about Basically Boba, or better yet, to order some tasty drinks, you can find them on Instagram @basicallybobaofficial, or head directly to their website.