Alameda county is under curfew until further notice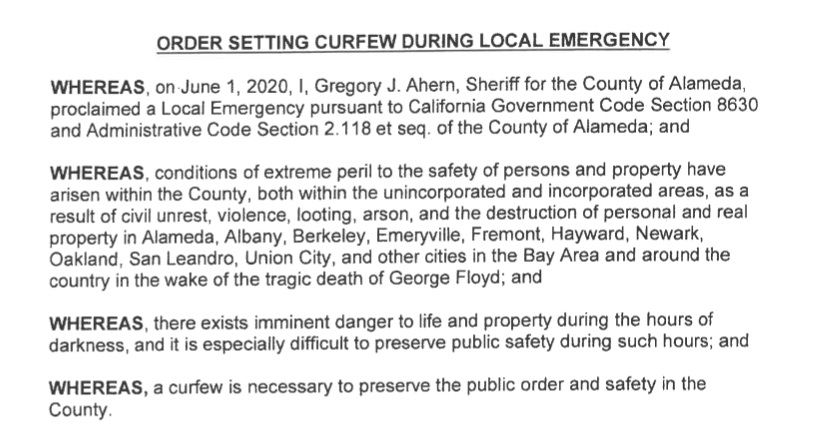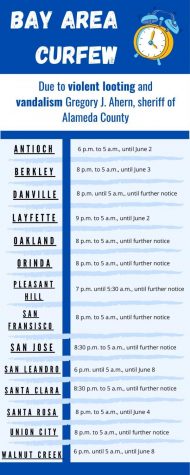 On June 1, Gregory J. Ahern, sheriff of Alameda County announced a curfew from 8 pm the day before to 5 am the day after until it expires at 5 am on Friday, June 5. The order is announced amongst the violent looting and vandalism in the county at this time. 
Though this is occurring alongside the protests, please remember that the two are not the same, and people have a legal right under the first amendment to peacefully assemble and protest. 
Cities such as Oakland, Orinda, Hayward, Walnut Creek, and Union City had already declared curfews before this order was officially put into place. The curfew in cities such as Walnut Creek is even more severe, with the start of the curfew every night at 6 pm to 5 am the day after.  Citizens are prohibited from entering public places during the time established, unless traveling to or from their home, work, or medical facilities. Law enforcement, firefighters, emergency personnel, and the media are exempt from the order, as are homeless people. 
The penalty for violating the curfew order consists of either a fine of $1000 or potential jail time. 
The curfew comes amidst protests and riots across the country in response to the police murder of George Floyd, who was suffocated under a white officer's knee for 8 minutes and 46 seconds after being suspected of forgery. The protesters are demanding justice for him and all the others victim to police brutality and systemic racism throughout America. 

Already more than 100 people have been arrested for breaking the curfew and being out after 8 pm, including at least 40 in Oakland during protests. 
Here is a list of cities around the Bay Area and their curfew times (as of 6/2/20): 
Antioch: 6 p.m. to 5 a.m., until June 2
Berkeley: 8 p.m. to 5 a.m., until June 3
Danville: 8 p.m. until 5 a.m., until further notice
Lafayette: 9 p.m. to 5 a.m., until June 2
Oakland: 8 p.m. to 5 a.m., until further notice
Orinda: 8 p.m. to 5 a.m., until further notice
Pleasant Hill: 7 p.m. until 5:30 a.m., until further notice
San Francisco:  8 p.m. to 5 a.m., until further notice
San Jose: 8:30 p.m. to 5 a.m., until further notice
San Leandro: 6 p.m. until 5 a.m., until June 8
Santa Clara: 8:30 p.m. to 5 a.m., until further notice
Santa Rosa: 8 p.m. to 5 a.m., until June 4
Union City: 8 p.m. to 5 a.m., until further notice
Walnut Creek: 6 p.m. until 5 a.m., until June 8