AV Students Hear Congressman Swalwell Speak on Trump Impeachment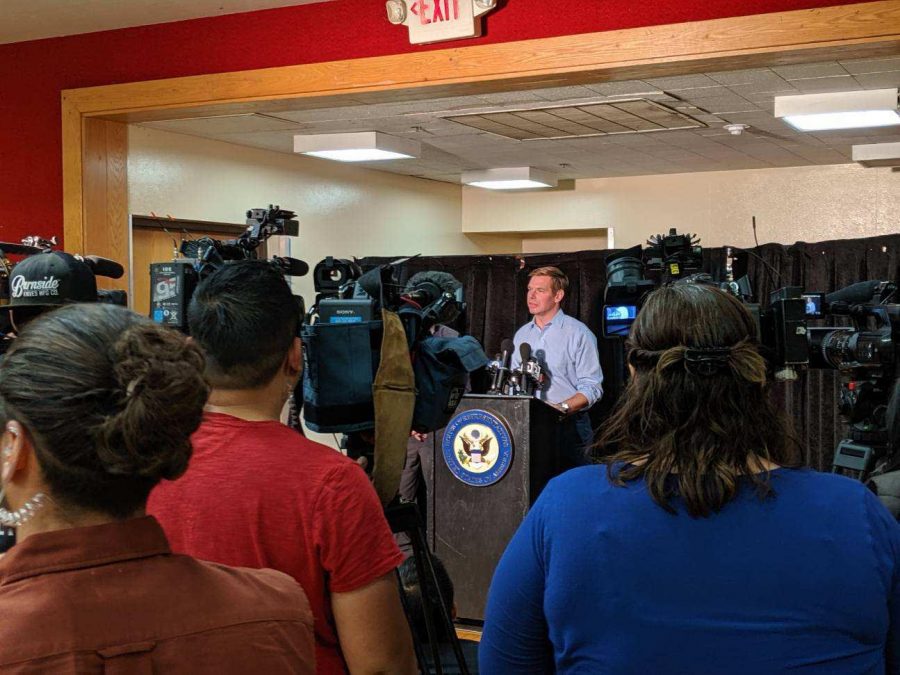 On Tuesday, October 1, Congressman Eric Swalwell (D) hosted a town hall with hundreds of his supporters at James Logan High School to discuss the possible impeachment and ongoing impeachment inquiry of President Donald Trump.
Congressman Swalwell represents Pleasanton and many surrounding cities in Congress, such as Union City, Fremont, Livermore, and Dublin. 
Swalwell sits on the House Judiciary Committee, making Swalwell's voice on impeachment particularly important. In order for articles of impeachment to move into a vote on the House of Representatives, this committee would need to vote as a majority to pass them. 
 Joining him was John Dean, who served as White House counsel under President Nixon from 1970 to 1973. Dean is widely known for his role in covering up the Watergate scandal and his testimony to the House Judiciary Committee, which named Nixon as a co-conspirator in the cover-up. This testimony, which was corroborated by conversations recorded in the Oval Office, eventually forced Nixon to resign his office rather than face impeachment. 
Dean and Swalwell both voiced their thoughts on the impeachment process, and they shared the opinion that President Trump's actions, specifically the ones that led to the Trump-Ukraine scandal, warranted a removal from office and indictment.
"If all we had was a phone call in July to the Ukrainian leader, that would be enough to warrant an impeachment," said Congressman Swalwell.
This was referring to the call made by President Trump to Ukranian president Volodymyr Zelensky. 
In this call, Trump requested an investigation into whether presidential candidate and former Vice President Joe Biden and his son engaged in corrupt activity in Ukraine. 
Swalwell, along with a majority of the House of Representatives, have spoken in support of an investigation into whether President Trump used $390 million dollars of military aid to Ukraine as a bargaining chip in hopes of harming Biden's electoral prospects.
Swalwell also alleged that the President attempted "obstruction of Congress" by preventing members of his staff from giving sworn testimony to the House Judiciary Committee, and said that it too was an "impeachable offense." 
Dean offered a unique, historical perspective to the issue of impeachment. Many people in Washington, including Congressman Swalwell, have accused the Trump administration of attempting to hide its alleged crimes.
"Cover-ups just don't work. And we're in a cover-up," said John Dean.
Congressman Swalwell discussed whether he felt that the impeachment process should focus on the plethora of crimes that the Trump administration has allegedly committed or if it should focus exclusively on the Ukraine scandal.
"I think the tip of the spear is the [Ukraine] extortion. So I think we should lead with that," said Swallwell.
Many Amador students, feel that Trump's possible impeachment could be "… the biggest political moment of our generation"
"I believe that focusing on the Ukraine scandal is the smartest political move," said James Dormer ('20).
With the majority of seniors and juniors being eligible to vote in the upcoming elections, it is important that Amador students are engaged and informed on the political happenings of our country. This impeachment process could very well take President Trump's name off of the ballot in 2020.