Amador Alum helps put on Saint Luna Concert at Las Positas College
On Wednesday May 17th, the Las Positas Musicology Club hosted their first concert, inviting indie band Saint Luna to put on a show for over a hundred people. The coordinator and publicist for the event was Amador Valley alum Chloe Peissner, the ASB president for the class of 2022.
"When I got introduced to the Las Positas Musicology Club, I instantly fell in love with the sense of community it offered. The Musicology Club is actively involved in the music world, and many of the members have volunteered at music festivals and other big events," said Peissner.
Peissner along with Saint Luna's drummer Paarsa Heidari are both Amador Valley alumni, so while the concert was not held at Amador, it was put on with the help of former Amador students. Originally based in San Diego, Saint Luna's visit offered an opportunity for Heidari to come visit his hometown. 
"We came up with the idea of leveraging our skill sets to plan a rock concert, and it seemed like a fantastic opportunity. When their drummer told me about their visit to the Bay Area, we saw it as a perfect chance to collaborate and organize an unforgettable concert experience," said Peissner. 
The concert was planned, organized and promoted all in a two week period due to their last minute idea, however Peissner and LPC Musiclogy Club President Anandi Joshi reached out to the Amador community to help spread the word. Countless other volunteers including people from Foothill and Dublin High School worked together to make the event come together.
"Dealing with logistical challenges and gaining approval from the school and facilities teams was a nightmare. It was an absolute whirlwind, but with the support from the Las Positas Music Department and other volunteers, we managed to make it happen." said Peissner.
Many concerts in the Bay Area are held at the San Francisco Regency Ballroom, or the Fox Theater in Oakland, making it inaccessible for some. Saint Luna and LPC Musicology Club's collaboration was held at the Las Positas Black Box Theater allowing students from Amador and neighboring schools to attend.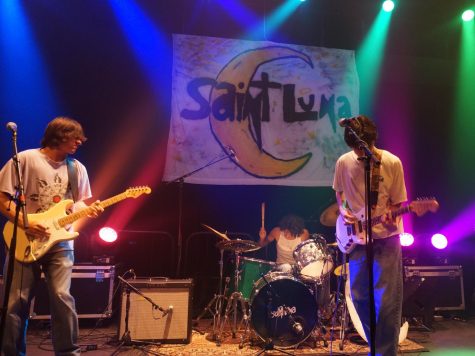 "Because of our hectic schedules, attending a concert in San Francisco or Oakland is really hard sometimes. Having events close by is not only good for busy students but also reassures parents about their children attending concerts in the area," said Peissner
This venue turned out to be a surprise for both guests at the concert and for the band themselves. Tickets for the concert were nine dollars.
"When we first saw the setup at the Black Box Theater, we were honestly in awe. The production team at LPC did an amazing job transforming the space into a legit concert venue, and Saint Luna even commended the sound quality, saying it was way better than other venues they have performed at," said Peissner.
Before the day of the event, tickets had sold out and many were  lining up  requesting tickets at the door. Going forward, the Las Positas Musicology Club hopes to organize  more events like this to engage people at Amador. 
This experience has taught me that young people really underestimate their ability to plan and execute large-scale events. A few years ago, I never would have believed that I could pull something like this off, but this concert served as an excellent starting point for future ones," said Peissner.