AV Marching Band opens season with intense but productive band camp
Kevin Zhu, AVT Local News Editor
August 7, 2022
The Amador Valley marching band has kicked off with a week-long band camp from July 29th to August 6th preparing its members for the upcoming 2022-23 season with rigorous physical conditioning and musical practice.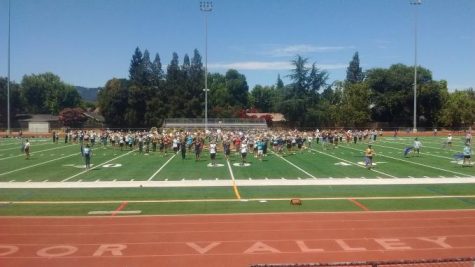 "Band camp is not in the woods, it is on our campus. It is a pre-season intensive week for all of the band and color guard members to learn fundamentals, there's music for our field show, and the drill formations for our field show," said Jonathan Grantham, director of bands.
The first day opened with a leadership training session for the student leaders of the band known as section leaders, hosted by speaker Scott Lang. Lang has traveled far and wide giving sessions on leadership skills, and is a well-known speaker with his own website, published books, and music education program.
"Get comfortable being uncomfortable. Success is built on it," said Lang.  
The next few days involved giving freshman members acquainted with the band culture and rules and welcoming them into the program.
"Freshman camp was really great. We got to know our freshmen, introduced them to everybody, and was a new experience for both me and them, " said Megh Patel('24), section leader.
 Whether there for the PE credits the marching band program offers, the joy of music, or the company of friends, many new members shared the same sentiment of it being an entirely new experience.
"It makes me excited and also tired. I'm also a bit scared it'll interfere with school because of the time commitment," said Zenita Mistry('26), freshman trumpet.
Band camp lasts 7 hours for three days, and 12 for another three days. There are lunch and dinner breaks, but any member of the band or color guard gets tired from the heat and the sun.
"I loved the hose!  Mr. Grantham got it out and sprayed us with water. It was really hot this afternoon, so it's super refreshing. The long meal breaks also help," said Bill Situ('24).
Many alumni of the band use band camp as an opportunity to return and visit the directors and former section mates and check up on how the band is doing to relive a bit of their past with some nostalgia.
"I feel like the band is getting more of a head start than I've ever seen, so it is very exciting. It's like day three of band camp and there's already half the opener done… make me anticipate great things," said Kai Gottschalk('22), band alum.
This year, the marching band is planning on centering their show around the school's centennial anniversary. It's a once-in-a-century opportunity that deserves celebration.
"It is our school's one-hundredth birthday this year, and our show is all about celebrating the centennial of our school, and why that makes me excited is that the music is a celebration of that. I'm really happy to have the band over 300 again, and everyone has shown up well prepared with a really great attitude at large," said Grantham.
Currently, the band is still looking for new members. For more information, ask Mr. Grantham in the band room or visit the music program website.