Wildfire threats during the summer season in the Bay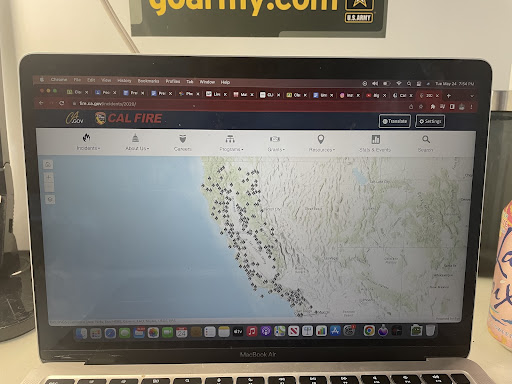 A prevalent worry is in the back of everybody's minds: the issue of wildfires, because after the devastating year of wildfires in 2020, California acts like a matchbox reading to burst into flames at the slightest spark.
"It was the state's worst wildfire season on record. By the end of it, the flames had killed more than 31 people, destroyed or damaged more than 10,000 buildings, and burned a staggering 4.1m acres. The North Complex fire was responsible for more than 300,000 acres of scorched land, killing 16 people in its wake," said Dani Anguiano in The Guardian.
For California, large bush and wildfires often occur in the more rural areas, such as forests, woodlands, and open fields. Because of the amount of dry grass and other vegetation, the rustic places of California act like kindling; the smallest flame can turn into an inferno.
"A large majority of the areas located in the state of California fall under state responsibility, and a lot of the rural areas, you know, like the forests, and you see a lot of the fires occur in state responsible areas," said LPFD Deputy Chief Aaron Lacey.
While the students and staff members of Amador Valley progress into summer vacation, it is important to keep in mind that California's fire season does not necessarily have a designated time slot. Cal Fire, the fire department for the state of California, had stopped designating time periods for the fire season because of the fact that fires were starting year-round.
"Maybe about 5 years, approximately, Cal Fire switched their model because of the increased fire behavior. Every year, for the past four or five years, the wildfire behavior has become worse and worse. Cal Fire used to declare fire season, and it was primarily around, I would say, early May and complete around late November, early December," said Lacey.
Even though fire season is "year-round", people still need to be aware of the fact that simple actions, such as lighting bonfires, not properly trimming and throwing away dry weeds, and launching fireworks may all lead to an unintentional wildfire.
  "We try to inform residents to keep like weeds, dry dead grass. If you live in the wildland urban face area, such as the Pleasanton Ridge line, areas within Happy Valley, in south Pleasanton, and the whole Vineyard corridor up to Ruby Hill, really try to keep weeds and grass maintained at a very shortened length," said Lacey.