It's never too early to start giving back to your community, and that's exactly what Amador Valley junior Ishan Junnarkar started doing. Junnarkar created his non-profit Magnus, to help those in crises around the world via clothes and other donations.
"Essentially what we do is we go around different neighborhoods and knock on people's doors and ask for donations in the form of food, clothes, and also money," said Junnarkar.
While most non-profits come to be because of an intense passion or a moment of realization, Junnarkar's beginning to create Magnus had a different story. Magnus not only gives Junnarkar and other members a way to give back to the community but also a reason to be productive over the summer.
"The main reason it was made was that me and my friends wanted to have fun while also doing something productive, and eventually we opened it up to more people as we went along," said Junnarkar.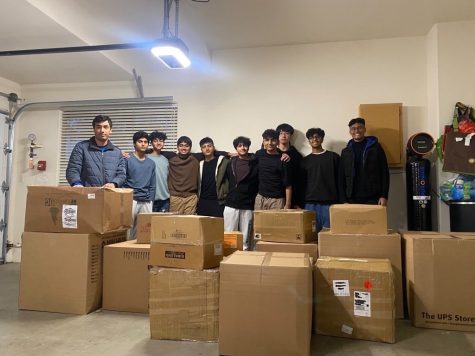 While his approach to Magnus may be laid-back, its mission is the opposite. Magnus has helped those in crisis all over the world through its many donations including thousands of pounds of clothing along with hundreds of dollars of aid. 
"Magnus's mission is to strive to help people in need. So far, through collecting donations, we're collected over 1,600 pounds of clothes and 300-400 dollars, and all of that has gone to people in crises" said Magnus Member, Aarya Patnaik '24.
Future plans
Their process of giving back begins with GiveBack boxes– a company that acts as a middleman for Magnus. Rather than having to worry about shipping costs and details of delivery, Junnarkar and his team can focus on rounding up donations and finding more ways to contribute.
"When it comes to other countries, we send the money to countries and then in terms of clothes, we use a GiveBack Box, which basically allows us to take any box and ship it to those in need for free," said Junnarkar.
Since being founded in 2022, Magnus has faced many successes, helping those in the Ukraine-Russia crisis along with the Somalian hunger crisis. Their expansion to over 40 members has significantly helped their operation, however, their success also came with a few challenges. 
 "When I first joined a lot of the hurdles that came up were how were we going to ship [the clothes] and what causes actually need help, and which ones we can actually make a difference in." said Patnaik.
Going forward, Junnarkar hopes to expand the non-profit even more and is currently in the process of awarding its members with service hours. He plans on passing Magnus down to others in the club to make sure it continues helping those in need, even when he graduates.
"I just wanted something laid-back. I feel like a lot of nonprofits are really serious, but Magnus is really easy to do, I'm not making anyone do anything, I just wanted people to have something fun and productive to do." said Junnarkar.