Netflix's newest hit: Heartstopper on healthy LGBT representation
On April 22, the love story between Nick Nelson and Charlie Spring caught the attention of many Netflix users. While a lighthearted and a quick watch, this show holds great importance in the advancement of LGBTQIA representation in Hollywood, as it features many same sex romances and a transgender character, the caring and loyal Elle Argent.
"The goal is less of getting 'representation' in media but more of exposing people from conservative backgrounds to it, and well-produced shows are an easy way to capture attention," said Josh Zhang ('22). 
The show brought Alice Osemen's graphic novel "Heartstopper" to life, with accurate character portrayals and dialogue lifted straight from comic panels. Even the infamous "pen scene" was included—Webtoon fans and new viewers alike are sure to love the live adaptation. 
The story is set at an all boys school in Britain and features a boy named Charlie Spring, a soft-spoken and nerdy individual who is reeling from the bullying he faced last year after coming out.  Stuck in a toxic relationship, Charlie meets the popular Nick Nelson and as they grow closer, they realize that their friendship might be something more.
Characters and their relationships 
The show lives up to its name by providing many different romantic narratives throughout the show, some with lots of screen time, and some that audiences only get glimpses of. The main relationship between Charlie and Nick is a breath of fresh air, as actors Kit Connor and Joe Locke have a natural chemistry that is palpable on screen. From the frequent holding hands to the literal cartoon sparks that fly between the two, it screams of young love and overwhelming attraction.
The way that the writers develop the relationship between Nick and Charlie is healthy and instead of relying on stereotypes, it is treated like any other rom-com couple. With Nick struggling to come out to his peers, Charlie's supportive nature as he helps Nick shows a genuine relationship. Another scene that exemplifies their healthy relationship is when they kiss in public for the first time at an arcade, evoking feelings of giddiness and passionate first love. 
On top of the main relationship, Darcy and Tara, Elle's friends at her new school, are cute and quirky. Their one liners and quips about each other offer comedy to the audience, while showing the natural romantic chemistry between the two. It is the embodiment of the romantic trope "opposites attract" with Darcy's self assertiveness contrasting with Tara's chill personality. The friendship between Tao and Elle offers hints of romantic tension as well, and in contrast to others, it takes on a slow burn, with fans wondering if they will or won't get together.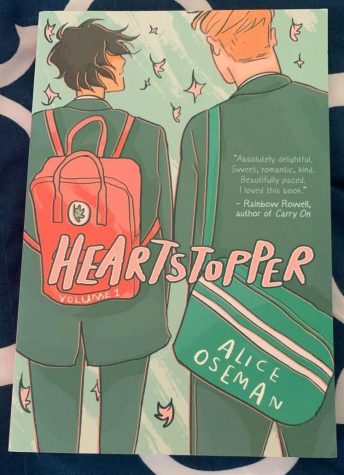 "It's important to represent relationships that take time to fully turn into romance after so many idolized relationships in media that are formed over the course of days or a couple of weeks. Strong relationships typically take time and people are misled by the fantasy of a quick and easy perfect relationship so much that it can alter their perception of a healthy relationship and ultimately lead them into toxic relationships," said Jack Bostaph ('22).  
Elle being transgender was never a big part of her character. Rather, she was represented as a person first rather than her gender identity. The subtle mention of her moving from the boys to the girls school was artfully done and shows that being trans is a part, rather than the whole, of a person's identity. 
"Even though it doesn't portray all the LGBTQ experiences—very few things can—positive representation like this still allows for the visibility of queer individuals and makes it more easily accessible for those who are still figuring themselves out," said Bostaph.