Movie Review: Free Guy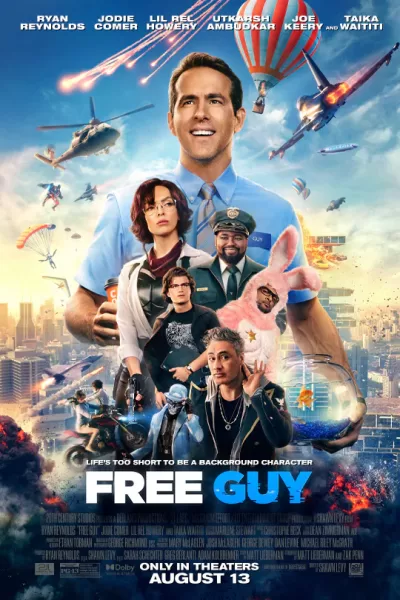 Overview
Ryan Reynolds and Jodie Comer steal hearts and save worlds in Shawn Levy's recent comedy Free Guy. 
Flashing lights and vibrancy bring the movie's video-game setting to life while capturing the essence of taking charge of one's life. This setting puts a refreshing spin on the well-loved archetype of transitioning from a side character to a main character.
Audiences will find themselves cheering on the innocent main "non-playable character" (NPC), Guy, throughout his journey. He's a bank teller in a video-game, who, upon discovering this, decides to write his own narrative. This angers the game designers (the antagonists), creating a lovely good v. evil dynamic in which a life-long side character valiantly strives to gain a central role.
Introducing us to this alternate world is the somewhat-abrasive Molotov Girl (played by Jodie Comer), who quickly turns the movie into a high-octane blast. Additionally, characters like Buddy the policeman allow for innocent comedic relief. Others, meant to resemble NPCs, help create a world familiar and new at the same time. 
Pros & Cons
The movie grapples with lofty themes of self-discovery and good v. evil, buried under comedy and setting. This was slightly confusing as it was at times unclear what type of movie Free Guy was intended to be. The movie comes off as ridiculous and giddy fun, but transitions to deeper undertones and messages for scenes grounded in reality.
Verdict
At the end of the day, the colors and attention to detail when crafting the setting, make Free Guy a fantastic weekend watch.
Free Guy is rated PG-13 and can be seen at theaters all around the Bay Area, including Regal Hacienda in Dublin.