Which music streaming service is the best?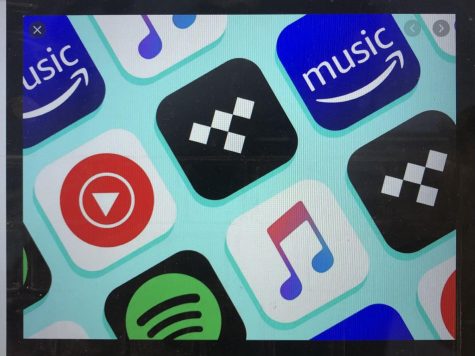 With everyone in quarantine, there has been an increase in movie and music streaming service subscriptions. Music encapsulates our emotions and there's no doubt that this quarantine has been a rollercoaster mentally. 
"Music has definitely helped kill my boredom and prevented me from going crazy," said Aryaman Arora ('21).
Today, we're here to find out which streaming service fits best for your needs this quarantine.
Apple Music
With a report of around 72 million users from 2020, there is no doubt Apple Music is a popular option when it comes to listening to tunes.
It costs $9.99 per month for an individual subscription and $14.99 per month for a family subscription.
With the subscription, comes unlimited skips, ad-free listening, and access to the entire Apple Music catalog.
The main downside to it is that there is no free subscription alternative, unlike Spotify.
"I use Apple Music because my dad got it for the family, so it's just cheaper to use it," said Arora.
Spotify
Spotify is without a doubt one of the most, if not the most, popular music streaming apps. With a report of around 365 million users, Spotify offers one of the best music streaming experiences compared to other streaming platforms.
They offer a free subscription that includes ads and a maximum of 6 skips per hour. They also offer a premium subscription that costs $9.99 that includes ad-free listening, unlimited skips, and downloading of songs.
One of Spotify's unique "quirk" includes a Friend Activity section. This option allows you and your friends to see each other's music and share it as well. 
"I love this feature because I love seeing the diverse music my friends listen to," said Ritika Ghosh ('23).
Many prefer Spotify over Apple Music because of a more convenient layout.
Though an Apple Music User, Arora reports that he "honestly prefers Spotify's user interface compared to Apple Music's."
Pandora
Pandora is another popular streaming service. Though it might not be as popular as Spotify or Apple Music, they still provide a great music user experience.
Pandora offers a subscription where users can listen to premade stations for free. They also have a $4.99 subscription for pandora plus where users can choose whichever song with unlimited skips.  They also offer a $9.99 monthly subscription for pandora premium, which is the pandora plus but with unlimited offline listening. They also offer a family plan that costs $14.99 per month and gives up to 6 users the premium subscription.
Pandora is a great streaming service for someone looking for different options and plans that fit best to their needs.
Conclusion
Spotify takes first place overall for the best streaming service. Their interface and a wide variety of music give them a great reputation for user satisfaction.