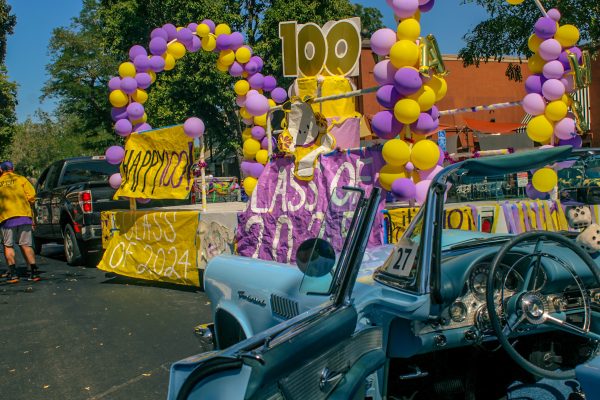 The Amador Valley Centennial Parade kicked off on Friday, September 15th with a dazzling celebration of everything Amador.
Complete with floats, teams, clubs, and a plethora of hot rods, the procession started at Veterans Hall and headed north on Main Street towards Amador Valley, with students, teachers, and alums lining the streets to watch. 
"I was excited to celebrate the hundred year anniversary of Amador opening, and [I] wanted to be here to help support our students and faculty. It was great to see the oldest graduate from Amador here, and then to have so many clubs and so many sports teams represented," said head counselor Sheryl Pacheco.
As students and alumni alike came together to celebrate, the parade and fanfare were more than an excuse to come out and support Amador; they were cause for a nostalgia trip.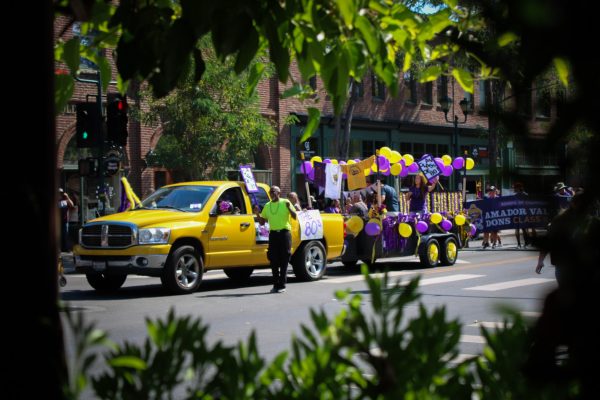 "I was a 1970s graduate; I was looking forward to seeing people that I haven't seen in a while, and reminiscing about Amador," said Mary-Kate Clauser ('70).
Gathering Dons of the past and present, the parade marks the dawn of a new century for Amador Valley.
"I was brought to the parade by the community. I really wanted to see everyone all here— students and all parents and everything, and it's really nice to see all of the floats," said Miyo Macario ('26). 
Marching Band
Starting the parade strong, Amador's very own marching band and color guard set the stage for the clubs and teams behind them with carefully prepared music and choreography.
"We worked in our classes and after school practices to get ready for the parade," said Amador Director of Bands Johnathan Grantham.
With applause and cheers throughout their performance, Pleasanton happily received the Marching Dons. 
"Definitely a lot of fun; it was exhilarating. It's great hearing the energy of the whole band behind me, as well as the whole city along the streets," said Senior Drum Major Brayden Ye ('24).
Expressing their gratitude, community members helped band members during their march through the heat. 
"It was really hot, and the Color Guard [wore] all black, [and] multiple layers, so everyone was very thirsty, but the community was awesome. They gave us all water from Gay Nineties, and Zachary's Pizza," said Color Guard Member Maria Clara Sapriza ('24).
The band is no stranger to celebrations, but it has never performed for such a historic event and important audience. 
"The Centennial Parade is significant because it's our hundredth year; it's a big deal, and it means a lot because there's so many alumni here as well as people currently going to the school, the faculty, and others," said James Borris ('24).
Student Clubs
Marching for more than half a mile, Amador's clubs proudly brandished their handmade banners, floats, and uniforms to represent Amador's vast student body.
The parade was an opportunity to display Amador Valley students' diverse backgrounds, with the French Honors Society and Latino Club representing the wide range of cultures at Amador.
"We want to show everyone where we're from, and we really appreciate where we're from," said Latino Club member Joy Alvarez.
From ukuleles to submarines, Amador's award-winning robotics team and ukulele and drama clubs celebrated students' talents and individual skills, expressing their passions for both science and the arts. 
"Amador isn't just a strong school educationally; we are also very artistic. You can't separate it from our culture," said Ukulele Club President Ziyan Liu ('24).
Showing off one of their award-winning submarines, Amador's robotics team relished in their two decade long history of competitive success.
"Our club's been around for 24 years now. It shows how people, even high schoolers can build sophisticated submarines, and be able to compete against colleges. It shows how, at Amador, we're able to persevere, and work hard to make things happen, and then succeed in our challenges," said AV Botz member Gaurav Gupta ('26). 
Rallying the community together for their generous cause, Mr. Amador marched with a float of their own.
"Our club represents Amador's values by showing off the best parts about it: by showing off the kindness that we create, and the money that we can raise for really great causes," said Riley Borges ('24).
Being a part of the Amador community, students and their clubs made their mark on the centennial parade. 
"The Amador Centennial means that we've been here for a while. We planted our seed here first; Pleasanton is painted purple; Pleasanton is yellow and purple," said Borges.
Alumni: A walk down memory lane
As the parade winded its way through downtown, it was not just the vibrant student clubs and teams that took center stage. Alumni from various decades came together to represent their respective eras, each with their own dedicated floats.
"One hundred years is a big deal. It has been such a spectacular event. It's pretty cool. After the parade, I also had the chance to go out on the field with our band at the game. This was truly truly the highlight for me," said Lori Olson Oliver ('72).
With floats starting in the 1970s and making its way upward, downtown Pleasanton was transformed into a sea of purple and yellow as alumni cheered and reveled in the nostalgia of Amador's past. The parade served as a bridge between generations, connecting the enduring spirit of Amador with the promise of its future.
"I think that it's important that we celebrate the Centennial, because it is a major event. It's one hundred years. Pleasanton has covered so much, from being a small town to becoming this huge place with so many different people," said Betty Gail Hunt ('70). 
In the midst of the vibrant floats and spirited performances, the alumni section of the parade carried with it the essence of timelessness, showcasing that the legacy of Amador Valley lives on through the memories and connections forged by those who have walked its hallowed halls over the years.