Amador Wind Ensembles fill the hall with music at the Collage Concert
After hours of preparation, the Amador Wind Ensembles put on a show full of performances at the Collage Concert. Music filled the hall from all directions as students played on the balcony, on the stage, in the back corner, and even in the audience. 
Lots of dedication and preparation go behind putting on a great show. Since there were quite a few small ensembles and soloists, performers had to find time to practice.
"All of the small group ensembles practiced their pieces after school, during access, and at lunch. Soloists also took their own time outside of school to rehearse their pieces. All performers went through an audition process with Mr. Grantham to make sure the pieces were good to go for the concert," said flutist Kathryn Go ('24).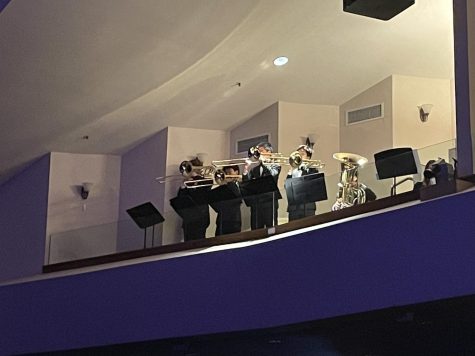 Like the name suggests, the Collage Concert is a combination of performances of small ensembles and soloists from all over the hall. It's a chance for musicians to perform their music in a unique way.
"The concert is unique as people can sign up to perform in small groups or by themselves which is not something we really have outside of the other concerts. There's also no break, so once one person plays, the other person plays right away, so it's like a nonstop going thing," said flutist Armance Alexander ('24).
The Collage Concert is an opportunity for students to showcase their musical talents. It's an experience that is not only enjoyable for the performers but the audience as well. 
"The song choices were just really unique, and it was a great way to showcase everyone's talents. I came here to support Armance and Kathy, and they did a really amazing job," said Sasha Gorrepati ('24).
Through the amazing performances, the concert became an inspiration for those watching. Fellow musicians in the audience feel compelled to perform in the next collage concert. 
"The Collage Concert was really cool. Everyone had really good performances and they all sounded really great. It was a really entertaining hour and a half," said Paul Lee ('24). "Hopefully, I can participate in the concert next year. I'm learning a marimba solo right now that's pretty difficult, and hopefully, I can perform it next year."
Awards were also presented to exemplary musicians. Clarinet player Tho Nguyen ('23) was one of the recipients of the awards. 
"I got Outstanding Band Member in Wind I. I think it's just for someone who demonstrates exemplary music things or whatever. I'm not too sure, but I just felt really lucky to get it because I really didn't expect it," said Nguyen.
Despite the many events of the concert, it's also an emotional performance for the graduating seniors. For many, this concert would be the last time for them to play with fellow students.
"It felt very bittersweet. I was really sad that, as a senior, it would be my last concert. But I was also really happy that I got to spend my last time with my friends and with Mr. Grantham and Mr. Cordoba," said Nguyen.
For other band members, they express their sadness in seeing their seniors graduate. However, the Collage Concert was a joyful experience as everyone created new melodies and memories that would stay with them. 
"I feel kind of sad about this concert because it's the last concert with all the seniors, and I've known many of them since middle school," said Go. "However, I'm also really happy that I've been able to make music with all the wonderful musicians for so long and be friends with them. Hearing the small ensembles and soloists, I was extremely impressed with the wide range of talent in the band community and hope that these talents can continue to be displayed on such occasions."
Leave a Comment