Students wear black to school in support of teachers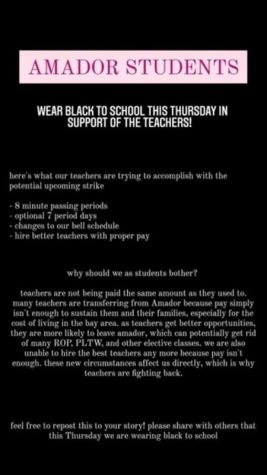 Last Thursday, students at Amador dressed in black to show support for teachers as tense contract negotiations with the district continued at a stalemate.
"As of Thursday, November 4, the teachers are currently asking for a pay raise and a few other things, such as more counselors. I feel like our teachers do deserve a lot better than what they have right now, and giving them a pay raise is a step towards the right direction," said Keith Li ('24).
An Instagram story called students to rally together for the teachers upon hearing about a potential strike. The story listed reasons such as insufficient pay and a better schedule that were motivating the teachers' campaign. 
"People are wearing black today because the teachers have been treated not great by the school district, and they haven't gotten the benefits they're supposed to be getting while the district office has been getting them," said Taylor Cohn ('25).
Students quickly reshared the story and circulated it among themselves.
"I remember seeing an Instagram post, and it was about people trying to get shorter times in school… and also benefit the teachers as well. In general, we just want to protest," said Jeannie Han ('25).
Beside the black clothing, which resembled Association of Pleasanton Teachers (APT) shirts, some students also picked up APT badge stickers to add on.
"We really respect our teachers here at Amador and we're very grateful for everything they do, so hopefully everything gets worked out and they keep doing what they do best," said Marc Altherr ('22).
Beyond the potential work stoppage, students expressed their gratitude for teachers' efforts overall.
"I really want to thank them for sticking through COVID and being here for us this year, doing all the work, getting school back running, so I'm really thankful for them," said Ishan Duriseti ('22).
The brunt of readjusting to a packed in-person schedule may have fallen on teachers' shoulders, but students are appreciative of everything they've done nonetheless.
"To all of my teachers, I want to say a big, big thank you… I know many of you guys don't think so, but there are students watching, and students that really do appreciate all of the effort you guys are putting in, so go teachers," said Keith Li ('24).
Check out our gallery below to see some of the looks people rocked dressed in black!