Meet Fresh serves traditional Taiwanese desserts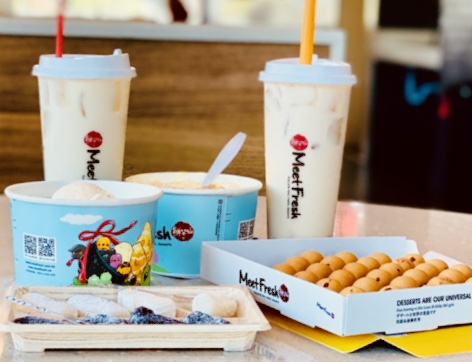 Founded in 2007 by a brother-sister duo, Meet Fresh is a Taiwanese restaurant that offers a variety of drinks and desserts. 
Using traditional Taiwanese methods and specialized ingredients, Meet Fresh looks to bring the best —and freshest—desserts to the table. Tofu pudding, egg waffles, and iced tea are a few of the items on the menu. 
"My personal favorite is the herbal tea, which is an herbal jelly but liquified. I really like that one with some toppings on it," said Meet Fresh employee Serena Lin ('21).
Meet Fresh also serves what is known as their signature dessert soup series. The series combines sweet potato balls, jelly, and shaved ice for unique, naturally-flavored desserts. 
"I'd recommend the double taro signature since there's taro paste and also ice cream in it," said Lin.
With a well-decorated interior and friendly customer service, the shop is a great place to hang out and study. The restaurant is open from 12 to 9 p.m., seven days a week.
"I would recommend it as a hang out place for friends, especially as it is located right across from the [Livermore Outlets]," said Emily Chang ('23).