Pleasanton salons refuse to shut down, instead go card-only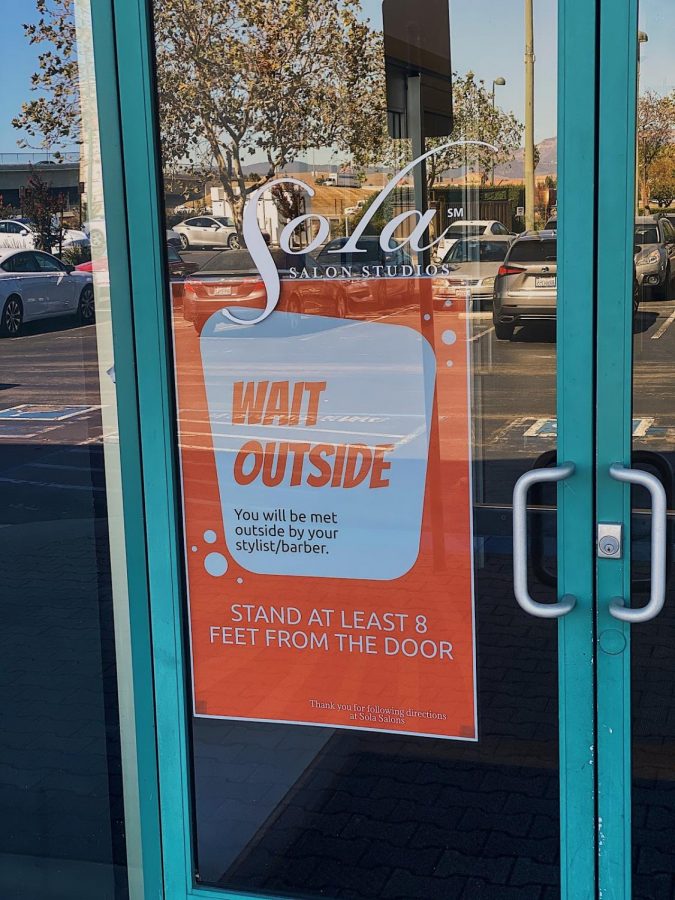 "Quarantine hair" is a new term that people started using to call their long, unkempt, or poorly cut and sometimes dyed hair due to the pandemic. 
There is a clear desire and public request for salons. Luckily, as Alameda County slowly creeps out of the dark, and as salon owners and employees become tired of having no job, our salons have finally started reopening, with a few extra precautions.
"We have a whole new set of guidelines to follow and some of the stuff is kind of grueling but I'd rather that than stay closed," said stylist, Rachel G., of Bishop's Haircut in Pleasanton. 
Basic guidelines include client and stylist wearing a mask the entire time, and sanitization of everything that is touched in between clients.
But with those extra steps comes extra hardships.
"Most of our stylists are back working, but obviously we don't have the same numbers as we used to mainly because of the time it takes to sanitize between clients," said stylist, Cassie Laine, of Sola Salon Studios in Pleasanton.
Salons in Alameda county opened indoors as of September 1st when Alameda, along with 4 other counties, moved from the fourth and most restrictive purple tier to the third tier, red.
Before that, "[salons] were only outdoors at first, which was so difficult because [they] could only fit like 3-4 chairs," said Rachel. 
The affect being forced outside had on salons was not too substantial from an outside perspective. However, salons which specialize in coloring were unable to do what they do best.
"We couldn't do any colors because it requires tools that we couldn't bring outside. I mean haircuts got us somewhere but doing so little of them a day was only giving us the bare minimum," Rachel continued.
With the okay from the CDC to go indoors, the basic routine is as follows:
"Once we check you in, ask a few COVID related questions, and take your temperature you can sit in the waiting area, it is constantly disinfected. The rest is pretty similar to a normal salon experience, we just ask that masks stay on through the whole process," explains Rachel.
Salons have also adjusted their use of cash. The paper is unsanitary being constantly touched by multiple strangers, so during corona it has been viewed differently.
Cash is a definite transmitter of the virus, so many salons and other establishments have turned to different transactions methods.
Sola Salon Studios is one of these establishments. "We have a touchless checkout where you can only pay with a card or Paypal," said Laine. 
This system creates one less object that is touched by multiple people and prevents the spread of germs.
Being indoors gives hairdressers and clients a better sense of normality. Even though routines have been altered on both ends, Pleasanton residents can go get that new do they've been waiting months for.