Bringing more visitors than ever before, Amador's annual Pigskin festival on Friday, September 15th had a centennial twist, with students, alums, staff, and community members coming out to participate. 
"It's a great opportunity to see all the clubs, because when I was at Amador, we didn't know all the different opportunities, so this is great exposure," said Jen Nonnarve ('92).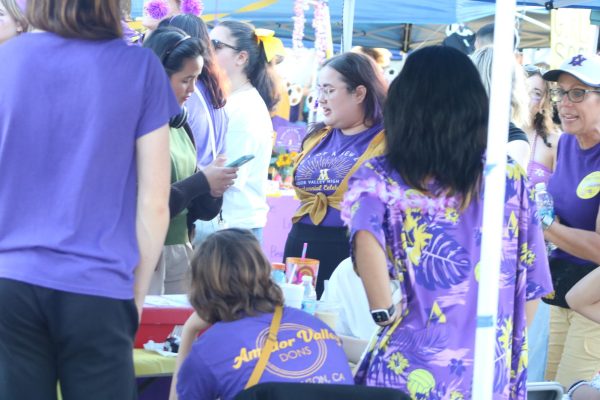 To accommodate increased centennial traffic, this year's Pigskin was hosted in front of the library instead of the usual blacktop outside of the football field. 
"Pigskin was much smaller in my first year; we're seeing a lot more alumni than we would have if it wasn't for the centennial. The public got to come out and see that the students were there," said AV engineering teacher Tony Dennis. 
New and returning students showed up to explore meticulously crafted stands offering various goodies. 
"I'm new to Amador this year, so I think it's very fun and it's a great fundraising event for all the clubs," said Jessica Chen ('25). 
With carefully decorated canopies stretching through the entire quad, clubs and leadership used the opportunity to raise money for their activities throughout the year. 
"We're funding to have money to do a variety of labs that we do because our club is a very hands-on club. We don't just discuss biotech applications; we actually do experiments" said biotech club member Tanishka Tambe ('25).
Amador's teams made sport-themed stands of their own to prepare for another year of athletics.
"We're trying to fundraise for our team because we need the money for our clothes, our equipment, [and] for games," said Lekha Anand ('25).
As always, Pigskin brought the community together to cherish and promote the activities of Amador's students.
"I think it's really fun because I get to purchase all this merchandise and support the school," said Seera Kaur ('26).
Following the parade, the Dons faced Monte Vista on the football field. 
Despite struggling against the Mustangs in the past and a 0-14 deficit, the Dons came back against the then undefeated Monte Vista football team to win the centennial game 41-34.