In conjunction with PUSD, PPIE and the new Advanced Computer Science class, FutureScape Talks is a new series that aims to host sessions with industry experts to anyone interested within the Pleasanton community. 
"The whole purpose behind career tech is to explore different ideas and to find something you're really passionate about. They may take a little time to find that passion, however, so we are going to give as many opportunities to try things as we can," said AV Advanced Computer Science teacher Kevin Kiyoi.
The series held its first session on August 31st, with the co-founder of Siri and founding member of Change.org Adam Cheyer. Cheyer captivated the audience with a combination of his story of creating Siri and a few magic tricks.
"The first thing you need to know to be an entrepreneur is that you need an idea, a big idea. Something that doesn't exist. Entrepreneurs have to imagine an impossible, magical future, then figure out the math and science to make it come true. That's what Siri was. 25 years ago, it would've been a magic trick. Today, it's in everyone's phones," said Cheyer.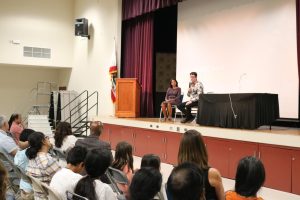 With over 200 registrees, Amador's multipurpose room quickly filled with students, parents, and notable city officials. Five advisors and fifteen student volunteers had worked together to organize and prepare for the event.
"The process of organizing wasn't that tough because we had a very strong, well-organized team. And we all made sure that we had everything taken care of. We had a lot of support from the administration as well, so that was also very helpful," said Kiyoi.
Pleasanton Mayor Karla Brown kicked off the event with a welcome, followed by an overview of the series from Amos Nugent, PUSD Director of Career Pathways. Then Kiyoi introduced the new Advanced Computer Science class, and Cheyer proceeded with his presentation and magic show. The session finished up with a Q&A moderated by PUSD CTE Advisory Board member Reena Gupta, before ending on a closing by PPIE Executive Director Andrea Wilson.
"I was so glad to see students engaging and asking thought-provoking questions to Adam Cheyer since that is our main purpose of bringing industry experts like him," said Gupta.
In his presentation, Cheyer explained how the Siri algorithm was made, demonstrating his points with a card trick. He then described with a coin trick, why working in a solid team is so vital to a successful entrepreneurship. Students and parents alike found the combination of magic and speech to be a fun, yet informative way to learn.
"It showed me that even if you don't know [what you want to do in the future], you should pursue what you're passionate about and you'll find a direction. And the [card tricks] were really entertaining, it was a good metaphor for all of the stuff he was trying to lecture us about," said Ajay Reyes ('24), a student who assisted with the magic tricks.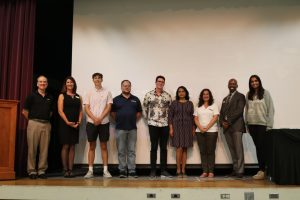 As FutureScape Talks continues, the Pleasanton community can expect more guest speakers, workshops, and career advice from local industry experts.
"We plan to continue bringing in speakers to advise and give insight to students about industries they take interest in. All sessions are always open to anyone interested and as the series continues, we hope to bring experts from various fields," said Gupta.