Firehouse Arts Center hosts Improv Face-Off
On the nights of Feb. 23rd through 25th, the Firehouse Arts Center hosted a wrestling themed improv show. The home team, Creatures of Impulse, faced against different improv teams for the renowned Face-Off belt. 
"It's a "competition,' but it's really a collaboration and celebration of all sorts of other improv. It's a great way to honor future and past creatures members through our middle school and alumni teams. And it also acknowledges other teams in the area like Mission Improvable from Cal High and Las Positas Improv," said Lou Cooper, the Assistant Director of Creatures of Impulse.
After each team presents a scene, the performers gather at the front of the stage to showcase the prizes. An audience member's name is then drawn at random, and they get to pick a prize. The team whose prize was picked earns a point.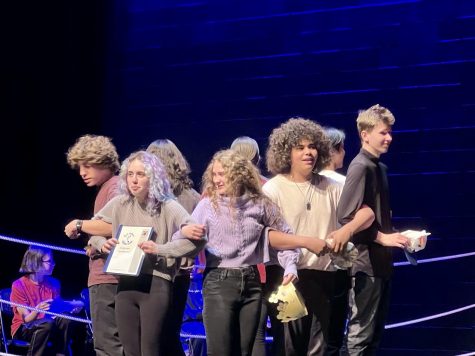 "[Picking prizes] was actually really fun. I didn't pick off of who did better, I just picked it off of what I wanted," said Camden Nauroth ('24), an audience member whose name was picked.
Many audience members enjoyed watching the improv more than they expected. After all, improv is an opportunity for anyone to have a laugh.
"Honestly, I think anybody could find enjoyment in improv as long as they're willing to play around. It's like an everybody thing," said Sebastian Civetta ('23), AV Drama Club president and a three-year member of COI.
Improv is an opportunity to grow life skills. Putting yourself out there and interacting with other members of the community while having fun is an ideal situation for many.
"I think people that are outgoing and extroverted should [consider] improv. It's a good outlet for them to express themselves," said Anusha Shelatkar ('26).
While many extroverted people do, in fact, enjoy performing, improv isn't restricted to any group in particular. Anyone who's interested can participate. 
"It's fun to see different groups that have different humor. And it's fun to work with and see the different techniques people use for their improv," said Shelatkar.