Michael Doyle fosters young artists in visual arts classes
Since he was young, AV Visual Arts Teacher Michael Doyle loved art and illustration. As he got older, his passion for art led him to his home here at Amador, where he now gets to teach what he loves. 
"I think my favorite part about teaching is the creativity involved. I love creating projects, I love painting and drawing them, I love thinking of interesting ways to teach them, I love problem solving and as a result, I just find teaching so creative," said Doyle.
Journey to Amador
Although Doyle had a passion for art from a young age, he spent his high school years focused on sports. As a recruited athlete, Doyle's college options were not open to any school he wanted to attend. 
"[Doing sports] shifted which schools I was looking at because I started looking at the schools that were interested in me. I got into Columbia University and got to live in New York, but they didn't have a Fine Arts degree so I actually made the choice to study Art History, " said Doyle.
Now, as a teacher, Doyle focuses on bringing out the creativity within his students and in himself. His teaching methods have allowed students to enhance their skills in a positive and upbringing environment.
"I think the way Mr. Doyle runs the class is really nice because we mostly learn through critiques. Art is also all about the discussion around your work, so it's more than just him telling us what to do. We get together for critiques and all the students get to collaborate," said Melissa Chen ('23).
More than Art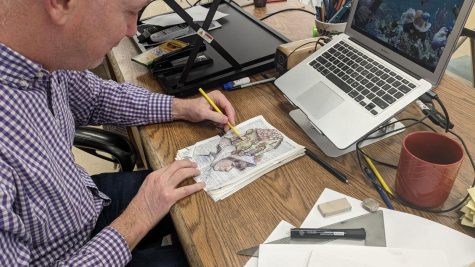 Although Doyle enjoys art and creativity for himself, his main passion comes from teaching. 
"My dream was always to become an animator at Disney, but as I got older, another dream I had was to become an illustrator. Working as a professional artist is a difficult challenge, whereas working in highschool as an art teacher, I get to really just do creative projects and share that with students. It's just a really fun and rewarding environment to work in, " said Doyle.
In the classroom, Doyle is constantly fostering artistry in his students, but he does a lot more than just teach. In his freetime, Doyle refines his own skills, with his most recent project being featured in a Pleasanton Art League at a children's hospital. 
"It's interesting because my career as an art teacher is coming to a close — I probably have about 5 more years — I started painting frequently, and I've put a few paintings in shows, so I'm working on my own work, and again, a lot of my work is inspired by the creativity and work ethic of my students," said Doyle.
Leave a Comment