Club profile: Origami Club
Whether crafting artistic masterpieces out of sheets of origami paper or working on another form of art altogether, the Origami club does it all. And while the members are divided into different groups of friends at school, they're united by their shared love for cathartic art.
"You don't have a task–you just come to the Origami club to hang out, make some art. It's just a nice way to de-stress," said Rathul Anand ('23), President of the Origami Club.
The club was created in the middle of the pandemic. The founder, Arthur Hua ('22), had a deep passion for origami, as it helped him escape the pressures of school.
"He learned origami from a lot of his friends when he was going through a tough time and it helped calm him down and take a needed breather," said former club member Annalise Demange ('24).
While the club initially struggled to gain traction, it quickly picked up momentum after the pandemic, thanks to the efforts of Hua and other members.
"The first year I was the only member who really showed up a lot. Then in the second year, there were a lot more friends (of older members) who would be interested in learning how to make origami," said Demange.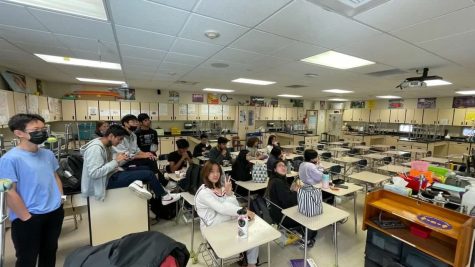 The club has since become a cozy hangout for a diverse group of Amador students. Some join to learn the art of origami, while others come to enjoy a peaceful lunch with their friends.
"I thought the club would be fun to join because it's also a social activity- it combined doing something creative with getting to hang out with other people," said Emily Tu ('23), the club's Vice President.
The typical Origami club meeting resembles an arts-and-crafts class: students choose to work on personal creative projects, learn origami from club veterans, or both.
"Day by day, we'll usually be playing music or teaching a new origami design at every meeting. Just handing out paper and letting members experiment and work on it on their own," said Anand.
The club plans to continue operating as it is for the time being, as members believe the club atmosphere is at its best when it's laid-back and inclusive.
"I mostly just want to keep the club the way it is, that same relaxing environment that everyone feels welcome in, but also just expand it and make it more open for other people," said Anand.
At its core, the Origami club is a safe place for those who seek to escape from the pressures of school life. The welcoming sense of community has helped the club gain attention from students all around Amador.
"The club is an essential place to meet when we are stressed with our academic lives, so we can teach each other and grow together," said club member Wilson Xie ('23).
Leave a Comment