"Serving the Community": Tho Nguyen ('23) named new Pleasanton Teen Poet Laureate
Tho Nguyen ('23) was appointed Pleasanton's 2022-23 Teen Poet Laureate after a selective process of writing submissions and interviews.
"The Civics Arts and Library Commission Committee  asks you more about your plans as a teen poet laureate and how you want to engage with the community. When I received the email, I was so surprised, because I didn't expect to get the position, but I did, andI'm really grateful for it," said Nguyen.
Nguyen first learned  about the position from  2021-22 laureate Nikita Jayaprakash, including laureate responsibilities in "how to serve the community". 
"It's amazing to bring the power of writing to people, because writing is not only a way to express yourself, but a way to enact change in what you want to see in a community and how you want to implement it," said Nguyen. 
She was formally recognized by the Pleasanton mayor Karla Brown in June for her position as the teen poet laureate.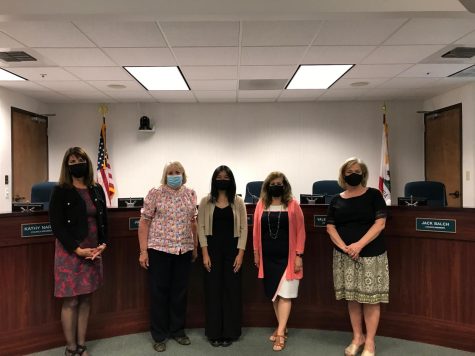 The start of her journey
Nguyen finds poetic inspiration through her own experiences, works of fiction, or "anything that comes to mind at the moment". But one prominent theme in her writing is her Vietnamese-American background. 
"My favorite genres [for writing] would be the ones closest to me:growing up Vietnamese-American in a relatively suburban white community. Growing up as an Asian girl in the midst of Asian hate. And also just connecting to my family's experiences immigrating from Vietnam to America," said Nguyen.
Her poetry laureate writing submission followed this theme.
"I submitted writing  about my grandmother, and how we have a really close relationship. Even though our languages, the languages that we speak and know best, are fundamentally different from each other," she said.
Nguyen's writing submissions were key to her being selected as a candidate for the title.
"For my other poem, I was writing about growing up Asian American during COVID 19 and how every one of those hate crimes really speaks personally to every Asian American in America, because it's not just one person who's been hurt, but the whole community," said Nguyen. 
She recalled that her passion for writing truly blossomed during the pandemic as a way for her to "unpack" her own emotions, thoughts, and ideas.
"I started really writing during the pandemic to express my thoughts and  to express  the craziness of life, not to mention the hate crimes and racism during June 2020.It was all really impactful, and honestly traumatic," Nguyen said. 
Writing up a storm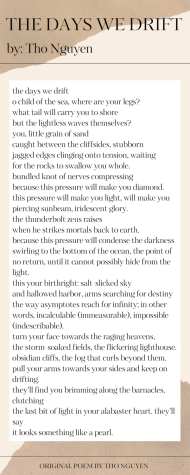 While her delve into writing started during the pandemic, Nguyen's interest in writing had always been present. 
"I was also self-publishing on prose.com. For a long time, that was where I really started publishing my own writing. I'm (also) published in a few literary magazines," said Nguyen.
From being co-president of the  Amador Writers Ensemble at school to serving as an editor for  literary magazine Interstellar, Nguyen highlights multiple opportunities and experiences that contributed towards her achievement.
"I think that being able to look at all of the submissions (for Interstellar) and provide detailed feedback on them prepared me to see how you actually write a poem. I think that really helped me as a writer, because I was able to apply my own feedback to my own shortcomings," Nguyen said.
Nguyen's own writing finds inspiration in renowned poets like Stephanie Chang, and Ocean Vuong. 
"They're both Asian American writers who have captured the experience of their culture, their traditions, their stereotypes, microaggressions, and all those other really important aspects. Reading them feels very comforting, like you're just with someone who knows what you've gone through," said Nguyen.
Looking ahead 
Responsibilities of the teen poet laureate include fostering recognition for poetry, reciting written word at public events, and uniting young writers in Pleasanton. Nguyen looks forward to presenting her pieces at more events and using her voice for the community.
"I was chosen to perform two of my poems, "alien" and "over and over and over", at the Dublin Splatter Festival. It was my first time performing spoken word, and I had the amazing opportunity to meet accomplished professors and poets. Currently, I'm also in the process of planning an open mic at the Pleasanton Library," said Nguyen. 
Nguyen plans to pursue both her passion for writing and STEM through a double major in biology and creative writing in college. 
"I'm currently looking for a college or university where I can really explore my interest in creative writing.I hope that throughout my life I can just explore writing as a hobby that I can keep coming back to time after time," said Nguyen.
She is excited to bring her passion of writing to younger students and grow the writer community in Pleasanton. 
"Now as teen poet laureate, my goal is to make sure that no writer feels bad at writing because none of us are. You just need more practice, but it doesn't say anything about you or your skill or experience," Nguyen emphasized.