Relentless: AVBotz places second at Robosub after facing a season full of adversity
Amador's AVBotz Robotics team took second place at the annual international Robosub competition held in mid-August near Washington D.C., where teams, all collegiate except AVBotz, prepared and presented their own autonomous underwater vehicle (AUV) built from scratch.
"The AUV has to be made to move on its own to do tasks like going through a gate, hitting a buoy, dropping objects into marked areas, and surfacing in an octagon. They're meant to mimic real-world scenarios," said Software Vice President Craig Wang ('23).
While it may seem mind-boggling for a small high school team to beat prestigious colleges like Carnegie Mellon and Duke, what the AVBotz team lacked in resources they made up for with passion. All the members met weekly during the school year and almost every day leading up to the competition, with an innate drive to achieve success.
"I think what allowed us to go above and beyond was just our competitive spirit, dedication, and passion. I think at the end of the day no matter how much money you have, you need to have that drive, that grit, to keep going," said Mechanical Vice President Sri Parasaram ('22).
Taking second place hasn't been an easy journey. From barely having a working AUV months before the competition to competing at  an international competition, everyone had to meet strict deadlines for a slim chance at participating. 
"We faced numerous challenges that seemed genuinely insurmountable at times. Funding challenges, technical challenges, logistical challenges–they all seemed to rear their ugly head during the course of our season. Heading into competition every day felt like a struggle, as new issues would crop up as we slowly rehabilitated our submarine Marlin towards a competition-ready state," said AVBotz president Edward Ding ('22).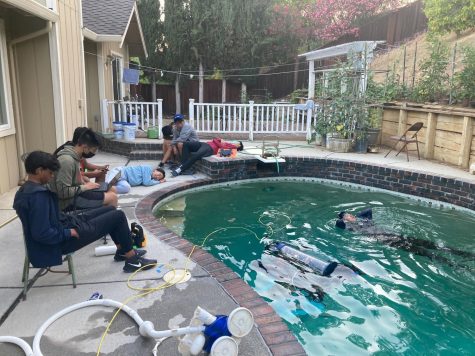 The team's technical challenges required the most diligence to solve: as the sub entered its pool-testing stage, key issues that popped up, including a defective on-board computer being unable to operate the sub's faulty thrusters, waterlogged servos that needed replacing, a broken kill switch, and system flooding, which resulted in the net loss of thousands of dollars in equipment.
"One of our tasks is dropping a marker into a bin, and we had some problems with getting the balls to fall straight, so we tried to add extra weight at the bottom to sink in the path that we wanted to, and we also had issues with alignment, so it was a combination of software and mechanical effort to fix everything," said Mechanical  member Isabelle Lo ('23).
Arriving in Maryland, two thrusters, which propel the sub through the water, broke during shipping, leading the team to change from an eight-thruster configuration to six. Angle sensors colliding with loose components also gave unreliable data. However, despite all of this, sheer will to face adversity combined with luck gave the team the upper hand in the competition.
"The first time we had a successful bin drop was in the final round of the competition. We got really lucky, and if we hadn't done the bin drop, we probably would have gotten third place. If you see the competition video, the markers we dropped into the bin actually drifted towards the bin. We got very very lucky at that time," said Wang.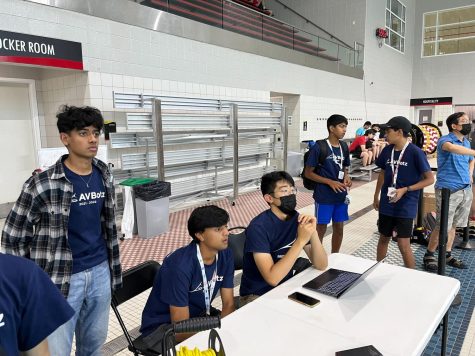 At Robosub, AVBotz's subMarlin qualified for finals after placing fourth in semifinals, ahead of schools such as Carnegie Mellon and Cornell. With a perfect completion of all the tasks in the finals, the team snagged the second place finish and prize money of $3,000. 
"I was never expecting as high as second place; my goal for the whole year was to just make the finals round. It's crazy because by May I had only seen the sub move three years ago as a freshman, and we even had a contingency that if we didn't have a working sub by this date we would refund everything," said Wang. "I had no idea if we could even go to competition, so I definitely think our efforts paid off, where three years of our work really came together."
While the victory was certainly rewarding, the experience was also a great opportunity for the club to grow as not just a team, but as a family. 
"This was my last Robosub experience, and it's one that I'm never gonna forget; it's unique, the experience of a lifetime, I'm never going to forget the relationships I made, how close I got to everyone on the team. It's just a group of really fun-loving, determined, and passionate individuals." said Parasaram.
Taking the second place award didn't just validate the team's physical efforts put into maintaining the sub, but also the friendships fostered through the entire season. As many club members said, the competition certainly made for a once-in-a-lifetime experience.
"This was my last year in AVBotz, as I graduated in 2022. I'd been a member of the team since sophomore year. That's what made our eventual second place finish so satisfying – it felt like the hours upon hours I had poured into this club had not been in vain. And that's the greatest feeling you can have." said Ding.
Leave a Comment