Cone with a cop event at Meadowlark dairy brings police and community together
The Pleasanton Police Department hosted Cone with a Cop on Wednesday at the Dairy downtown. The event went from 1-5 and attracted hundreds of people with the promise of free ice cream, sponsored by the PPD. 
"I am from Livermore, so I heard about the event from Facebook and my friends. The cops are super nice and the kids are so happy. I think my kids are sometimes afraid of cops, but now they are getting involved and talking to the cops freely," said Ana Lucia Davila, a mother of two. 
Cops in uniform joined dairy workers in taking orders, giving the public a chance to see the officers outside of the atmosphere of law enforcement. Motorcycles and patrol cars were put on display for kids to explore and ask questions about. 
"Children in the community get to talk to the police officers and have ice cream while they're doing it. It gives them a chance to actually interact with our police which they didn't get a chance to do before, and they've only seen what happens on TV and do not get an accurate picture of cops," said vice mayor Valerie Arkin. 
The event was set up as an opportunity for the police department to become closer to the people in their community, and bond with the citizens that they serve.
"There are a lot of times when we go out in the field and a lot of parents say "be careful they're going to arrest you" and I think that's a wrong perception we get sometimes and I think when we are out here we get to show people 'hey, we're all human'," said community service officer Quantise Bradley.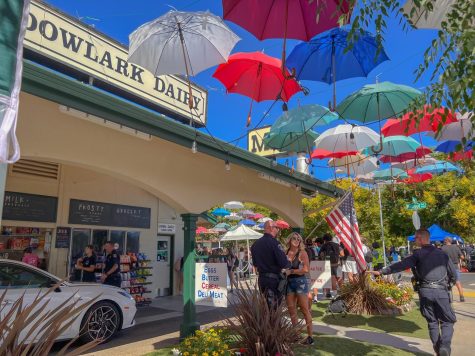 Over 100 cops participated in the event, and 5 volunteers directed traffic, which was backed up all through Main Street. This is the first time since before the pandemic that this event has been put on.
"My favorite conversation today was the little 8-year-old that told me he was very afraid of cops, but today he saw that they are serving ice cream so he got to see another side of them," said police officer Ricky Barcelo.