Volunteers tie ribbons in Downtown Pleasanton to honor graduates
On Friday, parent volunteers continued the tradition of tying ribbons of the high school colors to celebrate the graduating seniors of 2022. Purple, yellow, blue, and black ribbons represented the three Pleasanton high schools,  Amador Valley, Foothill, and Village. 
"The ribbon tying started with the onset of COVID-19 to celebrate the graduating seniors that year, who didn't get all the ceremonies and pomp and circumstance," said Jennifer Delp, a parent volunteer.
This tradition was celebrated for the third year in a row. Parent volunteers from the three high schools attended, as well as a handful of members from Pleasanton's own city council. 
"Last year's event organizer left very detailed maps and plans for the ribbon tying event, so it went very smoothly and it's fun to see the enthusiasm from the city, PUSD, and parent volunteers" said Robin Cruz, event organizer.
The volunteers gathered nearby the Pleasanton Arch for a demonstration before they split into groups, each given a sheet of paper directing them to the locations they had to cover. The groups were of three to four people, and they were supplied with ribbons to tie. In all, around 400 ribbons were tied!
"It's nice to take time to celebrate the accomplishments of our youth. As a family-oriented town this is really important, and it calls it out to people that might not be able to take a minute otherwise to appreciate it. I'm really happy to be a part of it," said Valerie Arkin, vice mayor of Pleasanton.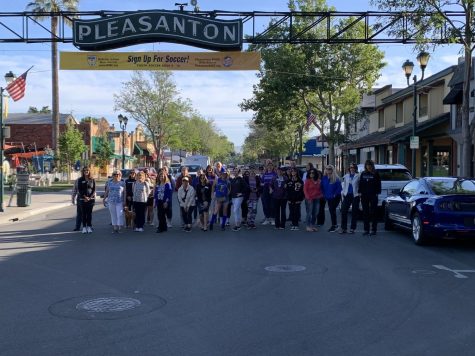 Overall, the activity was very casual. A passerby may appreciate the ribbons without knowing just how much thought was put into their tying. For example, the ribbons were tied on the side of the poles facing oncoming traffic on either side of the street, so that people driving would be able to see them.
"I'm glad to congratulate our graduates in all of our schools this year, and for us to do something on main street so that everybody passing by can recognize the achievement they've accomplished," said Jack Blach, Pleasanton city council member.
Although the tradition came into effect because of the events of the pandemic, Pleasanton plans to continue tying the ribbons in the future to celebrate the graduating seniors. While it may be a small event, the celebration of the schools represents Pleasanton's dedication to a friendly and welcoming environment.
"I'm proud of the relationship between the school district and the city, and very happy to be here tying ribbons for our high school seniors," said Karla Brown, mayor of Pleasanton.