'Keep that streak going': Amador DECA students compete in conferences
Through the California state conference in Anaheim, 12 Amador DECA students pushed beyond their competition to qualify for the International Career Development Conference (ICDC). DECA competitors came from all 50 states and all over the world: China, Canada, and Puerto Rico, gathered at Atlanta, Georgia for a five day conference from April 22-27.
"We were able to network with people from all over the world including China, Korea, Japan, Canada, Spain, etc … ICDC was truly an amazing event to participate in and I learned so many things through attending this conference that will last for a lifetime," said Andrea Yang ('23), DECA VP of Administration.
During the conference, all DECA students had to compete in roleplays, cluster exams, and written presentations in their individual events in the grand four categories of marketing, finance, hospitality, and management. 
"ICDC is the final conference and you aren't competing for anything higher…it was different because instead of meeting people from the state of California, you are able to meet people from different states and countries," said Shreya Kundur ('22), DECA Co-President. 
Amongst the 12 Amador DECA students who attended ICDC, three were able to place in their events for a medal: Andrea Yang, top ten in cluster exam of Automotive Service Marketing (ASM), Pallavi Shankar, top ten in roleplay in Restaurant Management Series (RMS), and Sarah Zhang, overall top ten finalist of Business Finance Series (BFS).
"I'm definitely proud because Amador has always had at least one person/team place top 10 (in the past), and I'm really glad that we could keep that streak going…However it was definitely the people around me that made a greater impact;…it was my chapter members, fellow officers, and especially my parents that helped me build my confidence," said Sarah Zhang ('23), DECA VP of Logistics.
As the ICDC wraps up the end of the competition season for the Amador DECA chapter, an end of the year DECA banquet will be held in celebration of all the wins and experiences of the year as the incoming seniors step up to lead the Amador DECA chapter to success for the next year.
---
DECA students present in state conference
From Feb. 24 to 27, 35 Amador students in the DECA chapter went forth to attend the California State Career Development Conference (SCDC) at Anaheim for four days and three nights in the Marriott hotel, where they competed for a spot in the International Career Development Conference (ICDC) in April.
"I'm proud of every DECA student that had made an effort. Whether they placed or not, the fact that they got out of their comfort level and challenged themselves is amazing…so as long as they achieve that experience, whether they placed or not, they're winners in my heart," said DECA club advisor Nancy McDonald.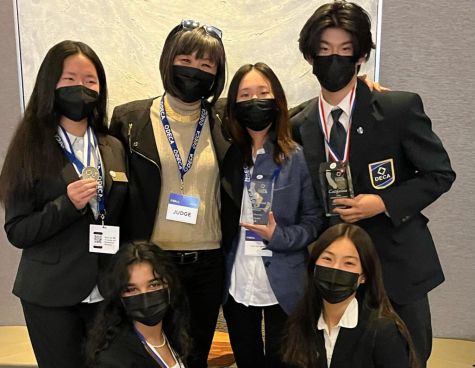 Many Amador students studied tirelessly for their chosen event in an effort to either place top five overall for roleplay or top four overall for written to gain the qualifications for the International Career Development Conference (ICDC).
"Coming back from the pandemic, I'm really proud of what our members achieved at the states development conference because it was definitely hard for people to adjust," said Andrea Yang ('23), DECA Vice President of Administration. 
Following the awards ceremony, 12 Amador DECA students were able to qualify for the ICDC conference in April at Atlanta, Georgia. 
"DECA is always a really humbling experience…when they called my name for third place and I got a glass, I was really, really, overwhelmed and glad that my hard work paid off," said Sarah Zhang ('23), DECA Vice President of Logistics. 
The Amador DECA chapter's qualifying candidates now have to prepare for their next DECA stage, ICDC, where they will now compete against schools across the nation and internationally.
"DECA has played such an important part in my high school career…and I am so excited to attend my final DECA conference this April in Atlanta," said Shreya Kundur ('22), DECA Co-President. 
---
Amador students place in NorCal conference
On January 14, 2022, DECA (Distributive Education Clubs of America) students across schools in Northern California participated in the NorCal Career Development Conference. Many Amador students made their way up to win finalist status or top three overall in marketing, finance, hospitality, and management.
"There were 39 AVHS competitors, and some of our students were in the top ten of the category they competed in," said Nancy McDonald, AVHS DECA club advisor.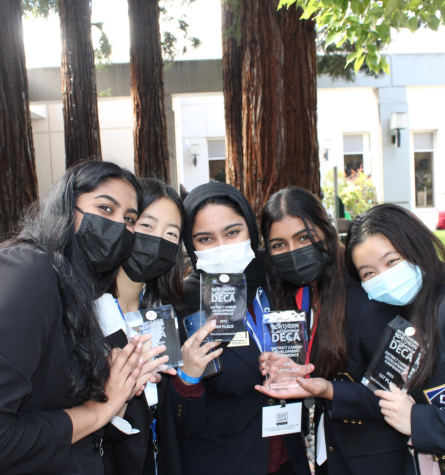 The NorCal conference had a number of 687 students attending this year.
The Amador DECA officer team hosted workshops during ACCESS and after school, scheduled peer-review sessions for members' written presentations, registered all participants, and, of course, sent constant updates via Remind, email, and more.
"The hardest part about preparing for the NorCal conference was making sure everyone from Amador was prepared and ready to perform well, so we hosted some workshops and just made sure that if anyone had questions they knew that they could reach out to me or any of the other officers," said Sara Vannoni ('23), DECA VP of Chapter Development.
With 39 students from the Amador DECA chapter participating in the NorCal conference, five won a glass award and 19 students placed as either finalists, top ten overall, or top three overall in their event.
"At first when I found out I got second [place], I was really happy because I had worked a lot on my project. I also was extremely thankful for everyone who supported me and helped me like my friends and our DECA officers/chapter," said Ayushi Deokule ('23), DECA club member.
The qualifying candidates will now aim to keep their winning streak at their upcoming conference at Anaheim, California against other DECA chapters in California.
"This was my first in-person big event in a really long time and there was so much activity going on. I'm excited to go to Disneyland with all the other officers and (hopefully) qualify for ICDC (international career development conference)," said Sarah Zhang ('23), DECA VP of Logistics.