French classes host Mardi Gras celebrations
Mardi Gras, otherwise known as Fat Tuesday, is most often celebrated in New Orleans with events in the Carnival celebration that includes mask parades, music performances, and elaborate feasts. And on March 1st, the celebrations were no different in Amador's French classes, with many feasting on cakes, ciders, cookies, and more in honor of the holiday.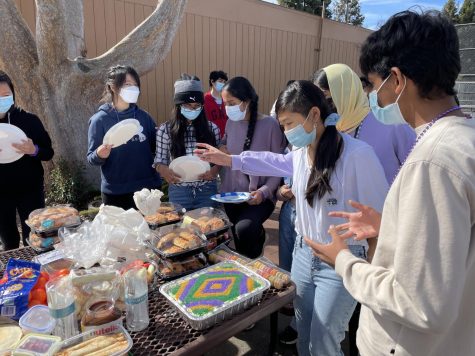 "I like to see the students in a different kind of setting, not behind their desk, especially now that we are in person. We didn't have the celebration last year, because we had distance learning, so I think it's a great way for them to get out of their seats and have a cultural experience," said Madame Benadjaoud, Amador French teacher.
The I-5 French classroom had the holiday's signature colors—green, purple, and gold—in all forms of decorations around the classroom for celebration. From banners to ceiling decors, students brought tri-color beaded necklaces and cakes with the themed colors to the celebration.
"I had students signing up to bring in food, we had a lot of volunteers to bring in food, and we had a special committee that was in charge of cleaning up. I gave them some food choices [to bring for the celebration], but students also came up with their own ideas," said Benadjaoud.
Mardi Gras is a celebration that includes the practice of consuming all foods consisting of fat before Lent, which is a 40-day period of fasting before Easter. And that practice is one that the Amador French class students can do with ease.
"My favorite part about Mardi Gras with French 5 was getting to see and enjoy what everyone brought in and bond in the meantime. It was super nice to have a day outside of the classroom where we simply got together and celebrated within our pretty tight-knit class," said Charline Apard ('23).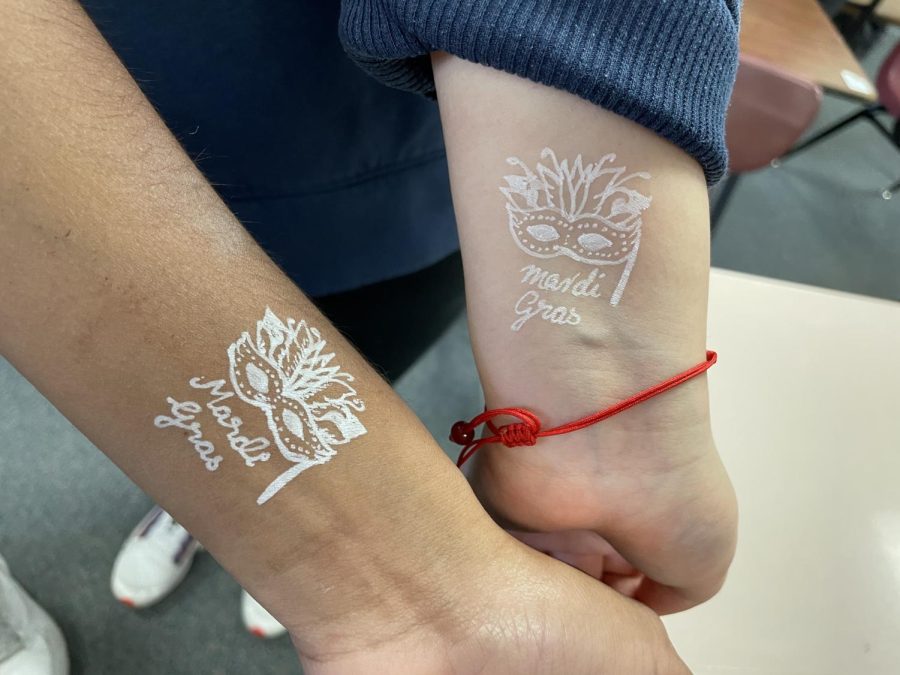 Despite the students being unable to participate in actual mask parades and music performances, the Amador French class made do with a variety of interesting presentations on the differences of Italy, Europe, and the United States in celebrating Mardi Gras. 
"We had presentations about the music culture, Carnival traditions, and Mardi Gras traditions outside of New Orleans after our food celebration in the following days. And it was really fun as we all listened to some Creole music and learned more about the mask parades and other events," said Andrea Yang, AP French Student.
Not only did the French class celebrate Mardi Gras, but so did Amador's French Honors Society as the members also brought all kinds of food for the holiday during the ACCESS periods.
"The French Honors Society had an exciting Mardi Gras party with a variety of French food and drinks including different French cheeses, fruits, croissants, baguettes, crêpes, a Galette de Rois cake, and much more. There was French music and members learned the history of Mardi Gras and how it's celebrated in different parts of the world," said Pranav Subbaraman, Amador Honors French Society President.
Many Amador French students were able to use this opportunity to learn more about the French culture and holidays as they were able to bond more with their peers through this celebration of Mardi Gras in school.
"My favorite part of this annual celebration is appreciating the sense of community of all the members together—it's really enjoyable to see all the members having so much fun! I loved celebrating Mardi Gras with
my fellow AP French classmates as well since we all had a great time talking and trying out a variety of foods," said Subbaraman.
Leave a Comment