"Insight and Experience": Amador students place in DECA NorCal conference
On January 14, 2022, DECA (Distributive Education Clubs of America) students across schools in Northern California participated in the NorCal Career Development Conference. Many Amador students made their way up to win finalist status or top three overall in marketing, finance, hospitality, and management.
"DECA is a student-led club, and the officers organized workshops and support sessions for students preparing to participate at the NorCal Conference. There were 39 AVHS competitors, and some of our students were in the top ten of the category they competed in. The biggest obstacles were the competitor's own fears and nerves…I think for the upcoming state conference, the competitors will prepare themselves better for the competition," said Ms. McDonald, AVHS DECA club advisor. 
No matter if it was their first time or second, students from Amador couldn't help but feel anxious walking in. After all, the conference had a jawdropping number of 687 students attending this year.
"I think over time, as you gain more competitive experience, you learn to focus more on your own performance rather than the amount of people competing against you. However, knowing that there are a lot of people at the conference, doing well in your event feels more rewarding," said Allyson (Ally) Chan ('22), DECA Co-President.
Exams are different for each student depending on what event and category they choose, but each student prepared hard in the weeks before to get familiar with vocab terms and potential questions. Some events especially included roleplays as part of the competition, where students are given a scenario to present business plans or campaigns as a professional.
"During the conferences, you spend the leading six months up to the conferences prepping a written presentation…we would analyze their business strategies and what they're doing in certain situations, then we would write a report on how we can improve it. And then at the conference we just present that report to a judge, who is an industry professional," said Shreya Kundur ('22), DECA Co-President.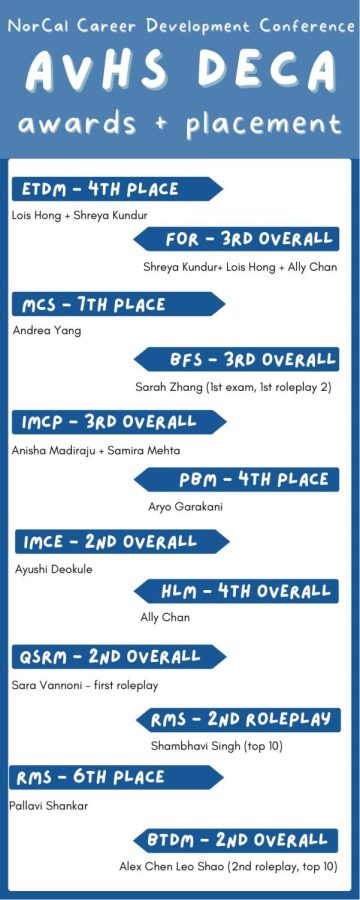 For some Amador students, they concentrated on writing practice instead of roleplay or exam prep. At the conference, Amador faced off with fellow rival schools to compete in writing an entrepreneurship franchise business plan, a tricky affair that requires students to know the finance logistics, marketing aspects, and more of their presented product.
"I thought that it was really cool that I placed in the top three, and it was really unexpected because this is my first real conference. I wanted to compete just for the fun of it, and it's a really valuable learning experience," said Leo Shao, DECA club member.
Before Amador students attended the NorCal conference, the DECA officers made sure to prepare the students for the events in the best way they could. The DECA leadership team hosted workshops during ACCESS and after school, scheduled peer-review sessions for members' written presentations, registered all participants, and, of course, sent constant updates via Remind, email, and more.
"The hardest part about preparing for the NorCal conference was making sure everyone from Amador was prepared and ready to perform well, so we hosted some workshops and just made sure that if anyone had questions they knew that they could reach out to me or any of the other officers, so that when we actually arrived at the conference, people knew what to do and how to do it well," said Sara Vannoni ('23), DECA VP of Chapter Development.
Spanning across three days, two nights, the conference took place at the Marriott hotel right next to the Bishop Ranch. DECA students across the Bay Area bonded outside of the competitive atmosphere through hangouts at the Bishop Ranch mall for food and drinks. 
"My friends and I were able to bond with our sister school, Foothill High School, out of the conference and we got Boba Guys and Bamboo Sushi together. As one of the DECA officers, we interacted with other officer teams from other schools and gained a lot of insight and experience from this event. I was able to get to know more people from Foothill and Dublin mostly, however I hope to meet more people from other schools in February at ICDC!," said Andrea Yang ('23), DECA VP of administration. 
With 39 students from around 70 students in the Amador DECA chapter taking part in the NorCal conference, five won a glass award and 19 students placed as either finalists, top ten overall, or top three overall in their event.
"At first when I found out I got second, I was really happy because I had worked a lot on my project. I also was extremely thankful for everyone who supported me and helped me like my friends and our DECA officers/chapter," said Ayushi Deokule ('23), DECA club member.
From practicing roleplay scenarios to designing the written event presentation to studying vocabulary for the cluster exam, many students worked extremely hard to be at the NorCal conference, and Amador's DECA club aims to keep their winning streak at their upcoming conference as well. 
"This was my first in-person big event in a really long time and there was so much activity going on. And I'm excited to go to Disneyland with all the other officers and (hopefully) qualify for ICDC (international career development conference)," said Sarah Zhang ('23), DECA VP of Logistics.
Amador students from DECA will move on to participate in the state competition at Anaheim, California on February 24-27, where they will compete with other DECA chapters from schools from all across California. Many students are excited to have an opportunity to compete on a state level, and to have a chance at taking home a shining glass souvenir.
For more information, check out our segment of the DECA conference here.
Leave a Comment