Amador athletes and their inspirations
Student athletes have a lot on their plate, making it easy to lose focus on their sports. A strong inspiration is key for athletes to stay on track and progress in their sports.
Scott Garman ('23), Dive
Diving is a sport requiring precision and concentration. For Scott Garman, it comes with ease stemming from his inspiration for the sport.
"I am a springboard and platform diver, and I started in 2012 when I was 7. I watched diving in the Olympics, and I dreamed of an opportunity like that," said Scott Garman ('23).
Starting the sport at such a young age allowed Garman to develop a true passion for the sport. He has been able to look at how far he has progressed with diving as a kid which has allowed him to stay focused on his goals.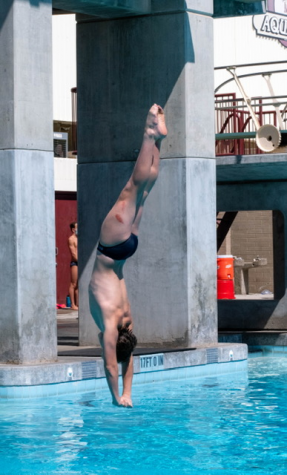 "My main goal right now is to be able to dive in college because that is something I have always kept in my mind since I started diving," said Garman.
Garman set his goals early and has paved a course to achieve those goals. Defining his goals and creating a path to achieve those goals gives Garman the opportunity to achieve what he has put his mind to. 
"I love the sport and I have fun doing it, so that's the main reason. But once again, it's all leading up to committing to a college" said Garman.
Garman knew he wanted to dive. It wasn't something pushed on him by his peers or family which was important for him to truly enjoy dedicating his time into diving. By feeling forced to practice and compete, it will be easy to become distracted and frustrated from the sport.
"Find a sport that you really like and stick with it. If you are playing a sport you don't enjoy, then it will be hard to stay motivated," said Garman.
Charlotte Kelly ('25), Volleyball
Inspiration can come from a variety of sources at different times, but they all have one thing in common: they encourage athletes to become the best they can be. For Charlotte Kelly ('25), her teammates inspire her to do great things on the volleyball court. 
"My motivation really just comes from the energy of my teammates and coaches. The feeling of winning close games and playing at such a high level is something I've always looked forward to," said Kelly.
Athletes start sports at different times of their lives, but starting a little later in life doesn't always deliver a disadvantage. With a strong inspiration and a true love for the sport, athletes are able to excel at their sport. 
"I had first started playing volleyball at 13 years old after my family friend had recommended it to me. I eventually started playing and immediately loved it more than any of the other sports I was playing, and I started to make it a bigger part of my life," said Kelly.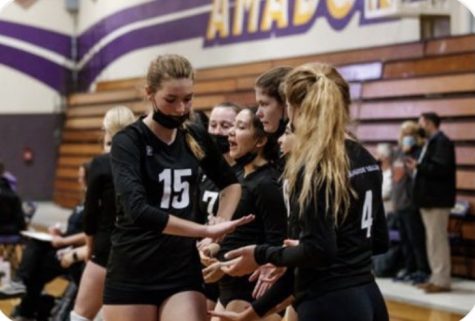 In team sports, a strong team community is essential for developing inspiration and dedication for progressing in a sport. For Kelly, her teammates encourage her and create a strong bond for her to expand her passion for volleyball.
"My teammates are the people that keep the sport so much fun for me. I am lucky enough to have my friends who play at my club and at my school who really make me love the sport," said Kelly. 
Kelly has made volleyball a significant portion of her life, and her inspiration for the sport has created big goals for the future.
"I want to keep playing throughout high school and eventually try to go Division 1 in college," said Kelly. 
Ryken Mak ('23), Cross Country/Track & Field
Ryken Mak ('23) is a varsity runner for Amador's Cross Country and Track & Field team. He's been a varsity athlete since he joined the Cross Country team his Freshman year.
"I've been doing it since fourth grade and it's something I've really come to enjoy and I think I'm really good at it," said Mak.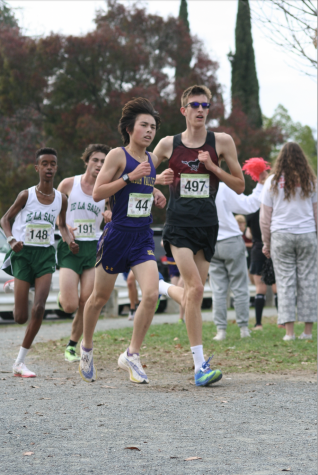 It takes hard work and dedication to become truly talented at a sport like running. An athlete needs a reason to show up to practices and compete to win. Mak has found that reason in his team.
"I like being dedicated, and it's a big challenge to me, and I've got a family out there, you know, and we support each other and we push each other, and that's what I love," said Mak.
While it really is the whole team that keeps each other going, certain teammates have had more of an influence on Mak than others.
"Jacob Lawrence. He's different, he's a great guy, and he's inspirational you know? Really driven, and that's what we love to see," said Mak.
Every athlete has their start to the sport. Mak began his running career in elementary school. It's no surprise that he's the Cross Country team's number one runner with years of experience behind him.
"One of my friends was doing it in 3rd grade, and then next year I decided I'd come out and do it with him," said Mak. 
Mak enjoys the sport because racing is a competition unlike any other. There's a certain thrill to it, and only a few can come out on top.
"It's a challenge. I like how it really weeds out the weak. You get on the line, everyones equal, you cross the line, and you ain't equally no more bro." said Mak.
Montana Parkinson ('23), Tennis
Montana Parkinson ('23) is a sophomore at Amador who's been described as the best player on the team by some of her teammates. A natural born athlete, Parkonson tried many sports throughout her childhood, and eventually found tennis.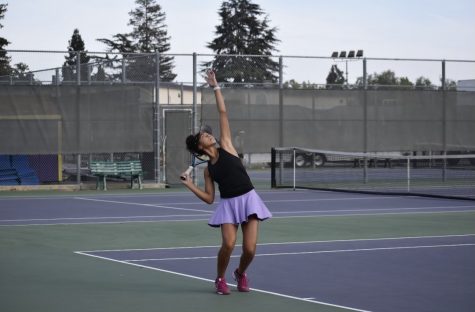 "I play tennis because it was one of the sports I enjoyed the most out of all the sports I've played, I really enjoy hitting the ball and relieving all my anger and stress," said Parkinson.
For one to dedicate themselves to a sport, they must truly have a passion for it. Parkinson works hard on the court, constantly developing love for different aspects of the sport.
"I really enjoy playing doubles, and I enjoy going to the net. It's really fun," said Parkinson.
Some of the greatest and most driven high school athletes end up playing their sport in college on scholarships. While she plans to continue playing for Amador the next two years, Parkinson also has hopes to play tennis at a Division 1 school.
"I would want to be recruited to a college. I'd like to play D-1. I've always wanted to go to UCLA, mostly because I love Los Angeles." said Parkinson.
Like many athletes, Parkinson looks up to professional athletes for inspiration. Someone who's there to set the bar of what a great athlete should be like is the perfect inspiration.
"Serena Williams is an inspiration to me because she's a very good player, and she's really fun to watch," said Parkinson.