Vandalism continues to carry on at Amador
Even without instigation from social media platforms like TikTok and Instagram, Amador students continue to vandalise our school.
"A big misconception is that it's funny, but people really don't know how the custodians have to spend all that time and end up putting in the work to scrub the stuff all the walls," said Sara Kracke ('22).
Vandalism has been a continuous problem on campus, however it became an epidemic of its own a few months ago. Trends on platforms like Instagram and TikTok seemingly encouraged these acts as vandals gained unwarranted popularity.
"We have a schedule that we need to follow, and whenever there's vandalism that really delays us. When there's graffiti it's very difficult," said Amador's lead night custodian Bobin Lel.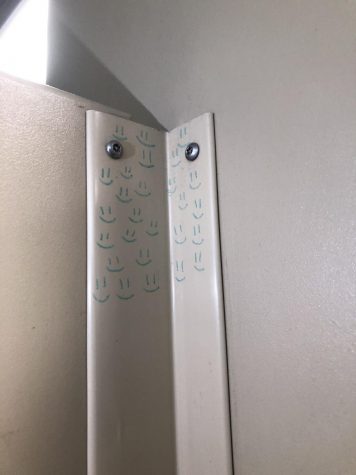 As for students, it seems these trends long gone continue to influence the decision to vandalize. Students still yearn for a few moments of infamy. The remnants of these trends continue to wreak havoc on the intense routines of our custodians. It doesn't matter if the message is uplifting or profane, our custodians must take time out of their schedules to scrub it off bathroom walls.
"Obviously the trends are gone, but I think with what is being vandalised right now, it's more than just taking a photo and having a laugh. It's about not having any respect and not being mature enough. I think those are really the causes," said Leila Touati ('22).
As coverage of a plethora of vandalism cases on campus continues, the most egregious being our new library rug, the vandalism in our bathrooms seems to be something that our school has lived with for a while. 
"I think that even if they [trends] aren't popular now, people's memory of it still has this innate push so people still think it's cool or trendy," said Kevin Zhu ('23).
While trends like the 'devious licks' are not popular anymore, students still have a tendency to destroy our facilities. Whether it's because of the remnants of these trends or because this is something our school has been battling for years, it is up to us to keep our school clean.