Girls Water Polo wins EBAL Championships for first time in Amador history
Our varsity girls water polo team recently took home the victory at the EBAL championships. Their win is no average feat, as they're now officially the first girls water polo team in Amador history to win the championships.
"It's great. It's like making history at Amador. Especially as a girl, it's great. And we're also the first Amador team to go to NCS in open division and go to the semi-finals," said Erin Brown ('23).
After failing to win EBALs in the past years, something had to have changed in the way the team has executed their playing this year. In order to be the best they've ever been, it took team chemistry and hard work.
"Some contributing factors to our success was having a very motivated and bonded team. This is the closest team I️ have ever been on. We all love each other so much, and we hang out outside of school all the time. It's like one huge family. We also did weights and swim sets in the morning before school which helped out endurance and made us stronger," said Gracie Quinn ('22).
EBALs is a series of championship games where Amador played other teams from the East Bay. 
"In League, we played seven games and we won all of them. There was only one team (Carandolet) where if we had lost against Monte Vista they might have won EBAL," said Brown.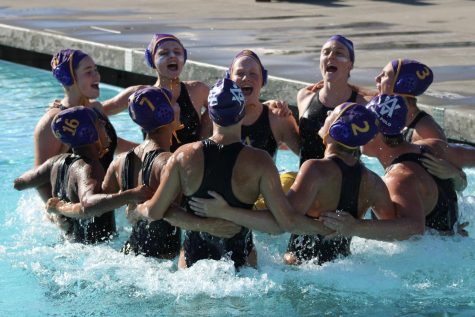 With their championship victory secured Girls Water Polo is now on a mission to win NCS and the Norcal Regional Championship Tournament. NCS is the series of games where teams from all across the north coast section of California play against each other.
"We're hoping to make it to the NCS finals and win. Our first goal was to win EBALs which we already did. After NCS we have the NorCal Regional Championship Tournament,
and we hope to win our bracket there and make even more school history," said Quinn.