Amador graduate Molly Murphy wins CCAA Player of the Week honors for Sonoma State soccer
A few weeks ago Amador graduate Molly Murphy won CCAA Player of the Week honors for Sonoma State soccer. Sonoma competes in the Division 2 conference every year, where once a week one talented player from one of the 12 teams is awarded with Player of the Week.
 "I was the first player to receive this award for this 2021 season. It means a lot to me because it showed the great start myself and my team had to this season," said Molly Murphy.
Murphy found her start to soccer here in Pleasanton, California.
"I started playing soccer at age 5 for Pleasanton RAGE. I continued at RAGE playing for their competitive league and on their ECNL team (Elite Clubs National League). My team won the 2017 ECNL Northwest Championships my senior year of high school," sais Murphy.
Murphy's college playing career can almost be matched by her high school playing career. She led the class of 2018 to Championships right here at Amador Valley.
"I was on the Amador Varsity soccer team for 3 years in high school. My senior year I was a team captain and was awarded MVP that season for the team. That same year I was also chosen for East Bay First Team All-League. EBAL is a competitive league in a tough division and I think that helped me prepare for the next level in college,"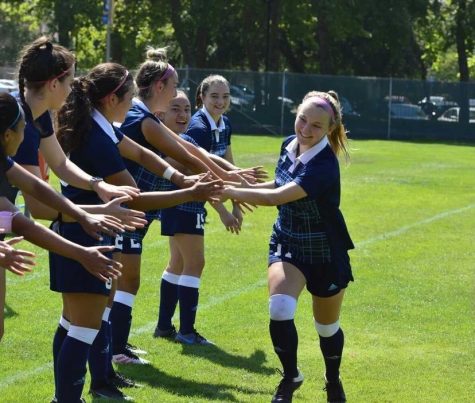 said Murphy.
Murphy wasn't the only player on the Sonoma team to receive this honor. Lexi Zandonella-Arasa is Murphy's fellow player who achieved Player of the Week for the fourth week of the season. With these two power-house players Sonoma's women's soccer is on their way to great things.
"Our team is currently first in the CCAA right now. We have 3 more league games (10/29 vs Stanislaus, 10/31 vs East Bay, and 11/04 vs SF State). We are playing to stay in first place and win our league for a second year in a row, and compete in our post-season conference tournament. Our goal is to then qualify to win the NCA A tournament," says Murphy.
After college Murphy plans on continuing her soccer career. 
"I plan to continue to play for a WPSL team (Women's Premier Soccer Team). I currently play for Pleasanton RAGE's WPSL team over summers in my off-season. I am graduating from Sonoma State this spring as a Business Administration major with a concentration in Marketing and Wine Business," says Murphy.