Tribute to Amador's custodians
Here at Amador Valley, custodians maintain our school and allow students to learn. With nearly three thousand students, custodians often have a tough time cleaning up during and after school, especially given the increase in vandalism and graffiti at our school. 
"It's been very difficult. We have to stop what we're doing, like disinfecting, and go inside the restroom and clean it. That takes up a lot of time. We have to work extra hard," said Amador's lead night custodian Bobin Lel.
Behind the scenes: what custodians do
Every day after school, students can notice custodians like Bobin Lel stay on campus to begin cleaning and preparing for the next day.
"We sanitize and clean all the rooms. We're in charge of all the setups and we need to be available for anything in case administrators need us. We also do security, making sure there is a safe environment for all the students and staff," said Lel.
Even during school, their impact is noticeable; their hard work makes it possible for students to learn in a clean environment. 
"I always see a few custodians picking up after students who left their trash during lunch. Also, sometimes. I see custodians performing tasks such as cleaning the restrooms and keeping the school clean. This is why custodians are essential to our school and why we must treat them with respect," said Evan Tian ('23).
With cases of vandalism occurring in the bathrooms and elsewhere, custodians are having to spend extra time and effort reverting the bathrooms to their normal state.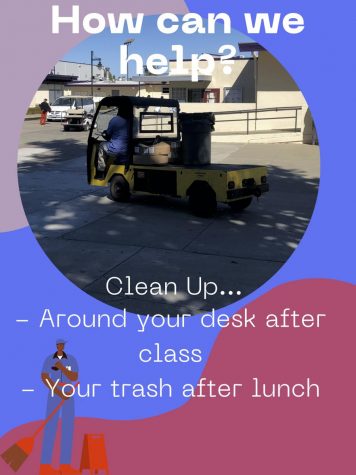 " We have a work schedule that we follow and whenever there's vandalism it really sets it back. It takes time and effort to remove graffiti and vandalism on campus," said Lel.
How can students and staff help?
The Amador Valley community seeks to keep our school clean and healthy — what can we do to help?
"Just clean up after yourselves. When you're leaving your class, clean up your desks and clean around your desks. Maintain the school because this is our school. This is everyone's school. We have to make sure we leave our school nice," said Lel.
From picking up trash to cleaning up after events, students are willing to help better our school.
"The most important thing we can do to assist custodians in my opinion is to pick up after ourselves and to not leave any trash to make their job as easy as possible. This applies not only for lunch but in the bathroom as well, such as flushing the toilets and throwing away the toilet paper properly," said Tian. 
---
Celebrating National Custodian Day
Every October 2nd is National Custodian Day. Amador has spectacular custodians, and we thought this was the perfect time to celebrate them.
"Huge shoutout to the custodians for keeping our campus beautiful," said ASB Executive Gracie Quinn ('22).
Our custodians work hard before, during, and after school to maintain the campus and clean up after students.
"We as a staff and student body are so so grateful for you [custodians]. The school would not run without you," said Amador Valley photography teacher Merilee Fisher.
Amador implemented a new three-bin trash sorting system two years ago, splitting waste between recycling, compost, and landfill.
"[Custodians] swiftly adapted to it and asked no questions," said Go Green Initiative intern Sahana Kumar ('22).
To all of our hardworking custodians, thank you!