Fortnite is suing Apple. What does that mean?
On August 28, Apple removed Epic Games from the App Store, preventing them from updating and introducing new games.
Apple has monopolized the app market for years. It takes a 30% cut of all app earnings by forcing developers to only use Apple Payment for in-game purchases or app fees. After taking its share, the company then sends the remainder to the developer.  
On April 13, Epic Games challenged this practice by advertising to Fortnite players that they could buy virtual currency directly from Epic. The price would be 20% less than what it cost using the App Store.
In order to maintain its control over the market, Apple has banned alternative paying methods for years, despite a profusion of better, more reliable services, like Paypal, Intuit GoPayment, and more. This has led developers to protest that Apple holds an unfair advantage when it comes to its own products.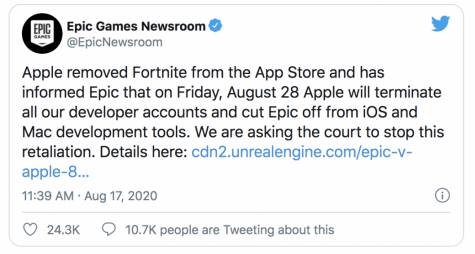 After getting their developer account frozen, Epic Games has decided to take this to the courts.
They are currently in the process of suing both Apple and Google, who also kicked them out of the Google Play Store for advertising users to pay to Epic directly. 
"Epic Games' lawsuit against Apple is likely to get shut down quickly… Generally, in the communities I've interacted with, opinions of Epic Games range from indifference to annoy[ance]. About a year ago, Epic Games bought the rights to sell some long-anticipated games exclusively on their storefront on the PC market instead of on Steam, which is what the majority of PC users buy games off of… but today, the outrage has mostly died," said Andy Jarean ('23).
Despite the odds against them, Fortnite has been loud in their protests, posting on their website, social media, and even creating a short ad explaining the situation.
But experts have warned that Fortnite won't come out of this unscathed. They can expect a financial loss, but as to how big remains unknown.
"[Epic Games] for sure has many less players on mobile… an important thing to note is that most of the people playing Fortnite on mobile are either super casual gamers [who] probably aren't super affected by the ban, or are younger children. Thus, I think that this ban will ultimately affect those who are younger much more than those who are older, since they would be more likely to just play on PC or a console anyways," said Maanas Shah ('23).
Yet some Amador students remain convinced that Fortnite's lawsuit is doomed to failure.
"From what I read, this can affect the mobile game industry negatively [because] Apple has threatened to remove both Fortnite and games running on the Unreal Engine [a software owned by Epic] from their store, which can be disastrous to both Epic and innocent, unrelated developers. Apple is unlikely to change their policies, nor will this affect issues already plaguing the mobile game industry, such as low-effort shovelware, false advertising, borderline copyright infringement, and microtransactions and gacha/lootbox systems," said Andy Jarean ('23).
Other AV students argue that the results are still unknown as of now.
"Epic's actions as a media titan may inspire other large and small companies to rise and attempt the same, which ultimately might force Apple to change their gaming policies. This isn't the only issue Apple has with its platform regarding gaming [for example, just a week or so ago they blocked Microsoft's gaming service, XCloud]. While Epic Games may have done some shady things as well by going directly against Apple's policies and clearly using this as a PR move to gain reputation (they have many graphics and resources already designed that they've used in game loading screens … [showing] how they had been waiting for them to be banned to gain support and retaliate), I believe that bringing this issue to light will ultimately do nothing but good as hopefully it will bring about a change one day," said Maanas Shah ('23).