Mr. Oswalt: Amador math teacher and fantastic track coach
    Many of you may know Mr. Oswalt, the excellent Course one and Math three teacher here at Amador. What some don't know is that you can also find Mr. Oswalt out on the track every day, where his athletes call him Coach Ozzie. Ozzie teaches classes all day, and still finds the time to coach cross country and track and field year after year.
    For the last fourteen years, Ozzie has been coaching cross country, and for the past eight, track and field. Mr. Oswalt is one of the most devoted coaches here at Amador, constantly pumping out new workouts and practices to allow his runners to reach their full potential. 
    "He's helped me personally by providing a lot of running expertise, like why we do certain drills and the order in which we do things, and how our training will really help us," Jack Gray ('20).
    Oswalt developed his love for running in high school and continued running through college. Ozzie even stated that he believes if he could go back, he could make the people he ran within college even better runners, and the runners he works with today would have to agree.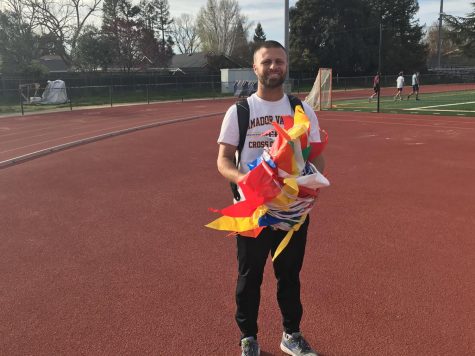 "He cares about each and everyone one of us and has really helped me grow and develop my strengths as a runner," Izak Monette ('22).
    Ozzie devotes hours of his day to help his runners train and grow. He's taken students who have never run a mile outside of P.E. and made them good runners. Even better, he's made his good runners great. Year after year Ozzie coaches his runners to some of the biggest meets in the state.
    "He really cares about everyone. He doesn't just focus on Varsity people. He also pushes us really hard, and being a runner himself he knows the training will pay off in the end," Nikki Bondale ('21).
    Despite having the busy schedule of a teacher, Ozzie is willing to double his work to do the thing he loves and help students become great runners.
    "I like sports. I like being outside, so coaching's a lot of fun. It wouldn't' be the same if I didn't know a lot of the people through being a teacher so I'll see people in the classroom and I'll see a different side of them out on the track. Especially for a lot of my student's math might not be their favorite hour of the day, so those student-athletes that do both, I like getting to see them in a different light out on the track," said Coach Ozzie.
    All in all, Ozzie is the perfect teacher coach combo that we need here at Amador as he helps his students to develop a passion on the track as well as bettering them in the classroom.