Drop off Lunches Being Stolen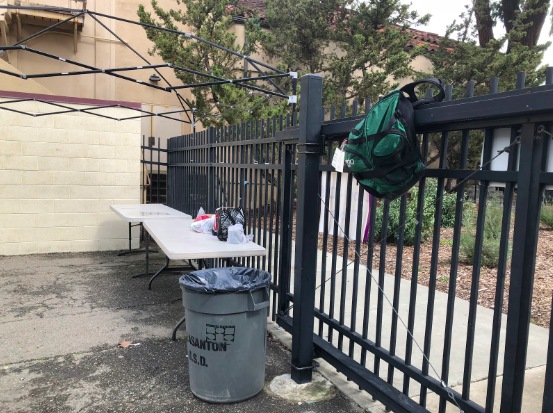 Many students receive their lunches and other items through the drop-off tables located by the gate to the right of the office. Parents can drop off things for students to pick up. Recently, these packages have been reported stolen from the tables, leaving students frustrated with the drop-off system.
Over the past few years, the location of the drop-off tables have changed multiple times. It moved from outside the office to inside the office, and then to where it is now. When asked why, Ms.Kubasiak said, "When the drop-off tables were located inside the office, so much traffic was created that office work could not be completed. Then, when it was placed outside the front of the office, office staff had to go through the hassle of then moving the items into the school for students to access, so Mr.Williams moved the table to where it is now."
Now however, the new location has seemed to cause certain issues.
Just a few weeks ago, Harshika Sethi's ('20) lunch was stolen from the drop-off tables.
"It was a rainy day and my parents dropped off lunch for me. They knew that lunches have been stolen in the past, so they put my lunch in a bag. However, when I got the bag, it only had my drink in it. I then went to the office to report the incident, but they said they could not do anything about it."
"I have had my entire lunch stolen twice, which is very frustrating considering the fact that my dad took the time to get it and drop it off. I feel there needs to be better restrictions to prevent these thefts," said Maddie Hildebrand ('19).
There may be a way to fix the issue we are having. Maybe some more surveillance cameras in the area can help catch the people stealing the packages. Maybe changing the location of the drop-off tables to a place where someone can watch over the items may help catch Amador's lunch thieves.
Overall, packages delivered to the drop-off tables are not secure and something needs to be done about it as many students rely on the drop-off system to receive their lunch and other packages they may need for the school day.