On Monday, Oct. 23, Amador hosted the annual College and Career Exposition in the Small and Large Gyms. With representatives from state, private, and community colleges, the fair garnered over 2,500 visitors from schools across the Tri-Valley. 
"The College and Career Exposition is held once a year, but it rotates through the Tri-Valley high schools. So once in five years, it's held at Amador Valley. Starting next year, Dublin' will have their second high school, so its going to come back every six years," said Zoe Gill, the Amador college and career specialist.
With so many students looking to apply, college representatives aim to educate, motivate, and inspire while keeping the application pressures at bay.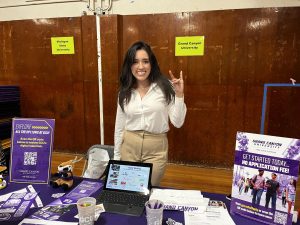 "We're here to educate and make families feel a little bit less scared about the college process. So we're really here to make you feel more comfortable with going to college," said Chris O'Sullivan, a representative from Iowa State University. "And a piece of advice for college: Chill out. Calm down a little bit about it. Don't let parents freak you out, don't let counselors freak you out. We're all here to help, and it doesn't have to be a stressful process."
The event recruited Amador's DECA students to plan and prepare for the exposition. They were in charge of contacting colleges, coordinating booths, and sending out google forms.
"We met regularly during lunch, and it involved a lot of coordination and communication. And we had to find out who registered, confirm them, compile the lists so that we have a reference for each college's meal, and see how many people were coming. We put out google forms, and we also had to search for volunteers," said Aurora Nicolas ('26). "There was a lot of double checking and triple checking, to make sure all the information was accurate."
Although Julie Duncan, the Tri-Valley ROP Superintendent, oversaw the activities, the Planning Committee was comprised entirely of students.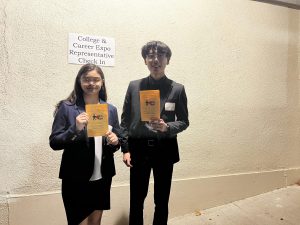 "We make it a real live event for [the DECA students] to put on. You can do DECA simulations all day, but to actually put on an event with 3000 people is a really big deal," said Duncan.
The exposition provided students and families with a great opportunity to see get to know colleges in more depth. It was also a chance to simply get an idea of the college experience.
"[The fair] opens up your eyes to a lot of colleges you may not be able to visit the campuses of, and they're all there for you," said Gill.