Of the thousands of students at Amador, those who check their email on the regular were in for a surprise when they received a certain message from the front office. On Sept. 19th, students opened an email asking students to drop by and pick up a letter of commendation. Unfortunately, a second email soon followed, apologizing for the accidental bulk email. 
"When I initially looked at [the email], I felt very happy because I thought that I actually did receive a commendation. It was sudden, but a good feeling," said Zenil Koovejee ('24)
Many students had a similar reaction, anxiously rushing to tell their friends about it. However, they were surprised to find out that their peers had also received the email.
"As I went to my first period class, I also heard five other people saying they got [letters of] commendation, so that's when I kind of got a bit suspicious that it might've been a mistake," said Koovejee.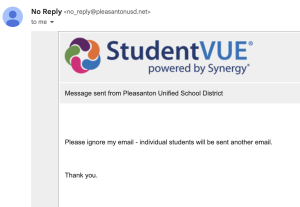 The initial email was brief, yet vague enough to spark confusion across the campus. Many believed something went wrong on a smaller scale, not realizing it was a mass email.
"I was kind of confused when I first saw the email. I thought they'd messed something up with my schedule again," said Caroline Shimy ('25)
Although the email came from the main office, it is unclear who exactly sent it. As such, it bewildered many students, who puzzled over why they received and how to collect the letters.
"I thought maybe it was something to do with grades last year, but I was mostly just really confused," shared Ella Fillmore ('25).
Ultimately, the second email mostly cleared up the confusion among students who were incorrectly sent the email. Students across campus accepted that they would not all be receiving commendation letters, some with disappointment, and some with a good laugh.
Students who were meant to receive the email received a big treat. AV Senior Julia Evans was one of those students who found out that the email was, in fact, meant for her. The letter of commendation turned out to be congratulating her for "an outstanding performance on the PSAT" from the National Merit Scholarship Corporation.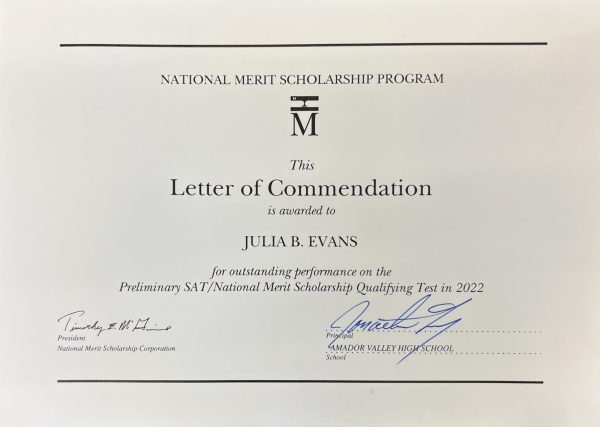 "When I received the [individual] email, I couldn't tell whether I should be excited because I wasn't sure if it was another mistake," said Evans, "when I got the letter of commendation, I was really excited and happy that I was a qualifier for national merit. Although I didn't actually get the scholarship, I was proud that my PSAT score was one of the highest."