Weekends on Main begin marking the start of Pleasanton's summer events
On Friday, May 5th, Pleasanton Downtown Association (PDA) started up the first Weekends on Main of the year. From Friday to Sunday, Main Street was closed down for various downtown events, such as live music and Cinco de Mayo celebrations.
"I decided to come today because I wanted to spend time with my family. My favorite part of the event is having the change to walk around on the open streets. It has a really nice ambiance to it. I would really recommend joining in on these weekend events because there's just so much to do. All the stands were really nice, all the people working were really nice, and there's just a great feel to it all" said Diego Sapriza-Aguerre ('26). 
The events typically include live entertainers, and on Saturday, May 6th a juggler performed through the streets of downtown. As one of the top Chinese yo-yo players in the U.S, Chris Garcia, stage name being 'Draco the Juggler,' has a variety of skills to perform, including juggling hacky sacks, knives and clubs, as well as doing tricks with yo-yos. 
"Juggling for me in particular helped me kind of guide myself in life. Like in highschool, I started juggling, and it had me traveling all around the world. So having access to these local activities and shows could be inspiring for people. I try to cater to both adults and kids so everyone can enjoy it," said Garcia.
Garcia performed a few shows throughout the day, in different locations downtown. He generally headed further down Main Street to take his performance to the people strolling along the streets.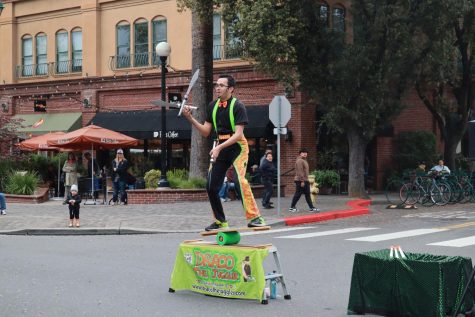 "In high school, I actually had a teacher that would juggle. And I would go to a juggling club and I had breaks, or during lunch and after school. I'd go to festivals and watch circus shows to get inspired. I hope to inspire others, too, with my performances," said Garcia.
The start of the annual Weekends on Main is a sign that summer is approaching. Main Street will be closed on every first weekend of the month until October, ending earlier than last year, for the events.